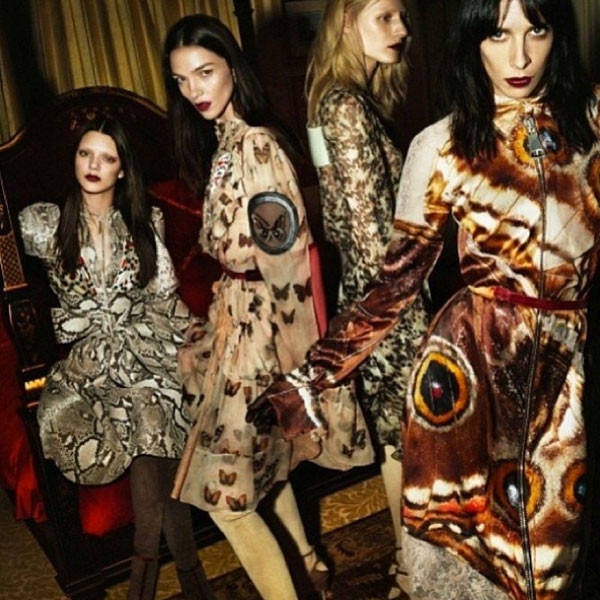 Instagram
It's time to officially acknowledge Kendall Jenner as the fashion world's current "It Girl." Not to take away from Cara Delevingne or Karlie Kloss but it's impossible to deny since the 18-year-old newbie has started landing major gigs back-to-back (to-back!).
Case in point: her new campaign...with Givenchy! Yes, the E! star will star in the French brand's fall 2014 ad alongside six other models. In the first image released via Instagram on Tuesday, Jenner (far left) sports dark lipstick and an animal print frock which fits right in with the group's vampy vibe. 
It should be noted that the label's creative director Riccardo Tisci is BFF with sister Kim Kardashian and her new husband Kanye West (the designer created custom clothes for the pair's wedding) and perhaps the connection helped earn her a spot. Then again, Kendall has made it a point to pave her own way in the fashion world without the use of her family's celebrity.
"She's unique in wanting to turn her back on her celebrity when it comes to modeling, she's with a smaller very respected agency called Society who work specifically with high end designers, photographers and stylists," praised Katie Grand, who styled Kendall for her debut shoot in Vogue Paris last month. "It would have been easy for Kendall to go with a bigger agency and gone down a celebrity route but she wants to be taken seriously as a model just like the rest of them.
Jenner's technique seems to be working. She has already booked gigs with Chanel and Marc Jacobs. No doubt, we'll be seeing her on quite a few runways come fashion week this September.
Make sure to tune in to Keeping Up With the Kardashians Sunday nights at 9 p.m., only on E!
What do you think of Kendall's Givenchy ad?