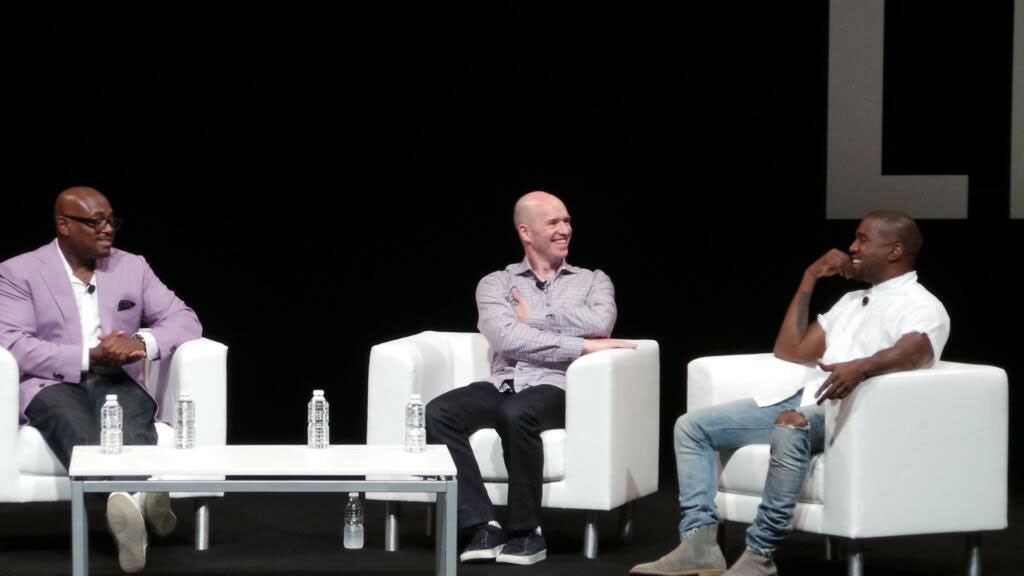 Twitter
The photo of Kim Kardashian and Kanye West's first kiss as a married couple is so beautiful thanks to 1.) Kimye's undeniable chemistry, and 2.) four days worth of adjusting every aspect of the shot to make it picture perfect!
'Ye opened up about his wedding, his beautiful bride, and yes, that smooch while speaking on Cannes Lions' International Festival of Creativity's "Technology, Culture and Consumer Adoption: Learning to Read the Cultural Landscape" panel on Tuesday.
"I'll tell you a little story about the kiss photo that my girl put up," said the rapper, who was joined by tech bigwigs Steve Stoute (Translation) and Ben Horowitz (Andreessen Horowitz) on stage. 
The reason "we worked on the photo so much," Yeezus revealed, was because even though photographer Annie Leibovitz "pulled out of the wedding" the day before it took place, the groom "was like, 'I still want my wedding photos to look like Annie Leibovitz's photos.'"
And what Kanye wants, Kanye gets! "We sat there and worked on that photo for four days," he said. "Because the flowers were off-color and stuff like that."
"Can you image in telling someone who wants to just Instagram a photo, who's the No. 1 person on Instagram, 'We need to work on the color of the flower wall,' or the idea that it's a Givenchy dress, and it's not about the name Givenchy, it's about the talent that is Riccardo Tisci—and how important Kim is to the internet."
The picture turned out beautifully, and unsurprisingly, it quickly became the most-liked photo on Instagram ever (it's currently at 2.29 million, but it knocked Justin Bieber out of that top spot way back when it passed the 1.82 million mark).
North West's papa explained that "the fact that the No. 1 most liked photo [on Instagram] has a kind of aesthetic was a win for what the mission is, which is raising the palette."
But even though perfecting the timeless wedding photo took "a long time," Kanye was more than happy to capture such a precious moment with "the number one woman in the world." (Oh, and FYI, the couple's actual first kiss and husband and wife at the ceremony didn't last for four days, but it wasn't just a quick peck either. Artistic Director of Zappos Couture and former Vogue contributing editor André Leon Talley revealed on Watch What Happens Live that Kimye's ceremonial smooch was "extremely long, which is always a good sign!")
"I can't be with any girl but Kim," Kanye gushed, "because that's the girl I look at her pictures the most—I get turned on the most."
Mr. West's desire to be with the best extends to his professional relationships, too. He told the audience, which included supportive mother-in-law Kris Jenner, "I can't work with anyone who isn't No. 1: Jay Z, Kim [Kardashian], [Barack] Obama."
Sweet Yeezus.
Tune in for a brand new episode of Keeping Up With the Kardashians next Sunday at 9/8c on E!