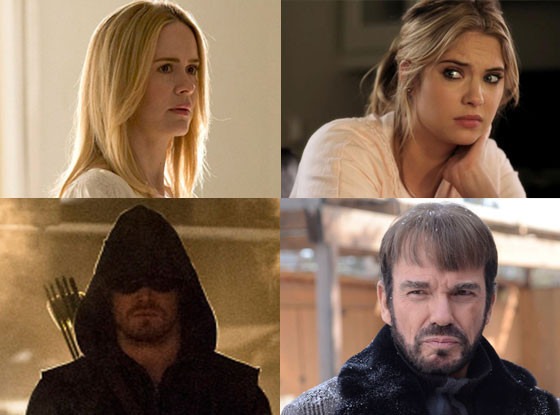 TGIT.
No, we're not confused. We're aware it's Tuesday, not Friday. So why are we so excited over a plain old Tuesday? 'Cause it's Spoiler Chat day!
In today's round up of scoop-y goodness, we've got need-to-know info going into tonight's Fargo finale, as well as juicy intel on Pretty Little Liars. Plus, we're spilling American Horror Story: Freak Show secrets and dishing on Arrow's buzzed-about deleted finale scene...
Eric G.: What can you spill about tonight's season finale of Fargo?
We definitely need to warn you: The final 5 minutes of Fargo will leave you feeling extremely...conflicted. In fact, we might even go as far as to say that the episode's final twist was unsatisfactory, which is a huge bummer considering we've been addicted to this series like crack.
Thomas: Anything on AHS: Freak Show? Cannot believe my queen Sarah Paulson is taking on two roles! Eek!
Freak Show is currently casting a few new roles, including that of the comedic Larry, an extremely, extremely tall man, described as a gentle giant, named Bobby, and Sammy, a role which will require prosthetics…and that's all we're revealing right now. (Hey, reporters gotta have their secrets!)
Phoebe: I'm desperate for and American Horror Story: Freak Show spoilers! Got anything for me?!
Agreed! We're dying to discover more about Freak Show's terrifyingly twisted her characters. In fact, we caught up with star Angela Bassett to find out what's ahead for the fan favorite actress. "It's going to be tough, tough, tough to surpass Marie Laveau, it really is. She was truly a special phenomenon," the former voodoo queen gushed. "All [Ryan] has told me is I'm not the bearded lady, but he said, 'Oh it's better! It's even better than that!'" One hint that Bassett spilled to us about her next character? The powers-that-be at American Horror Story called and asked if the actress was afraid of heights! The actress revealed that she's up for absolutely anything except for one role: "I hope I'm not the ticket taker!"
sorayaesrtela: a lot of rumors that a #Olicity kiss was cut from season finale. Could you find the truth? 
We can confirm that there was in fact a kiss filmed between Oliver and Felicity for Arrow's season two finale that ultimately hit the cutting room floor. But it was pre-reveal that Ollie's "I love you" was just a ploy (But was it really?!) to trick Slade, so that doesn't really count, right? Right?!
Rebecca: Gimme those Pretty Little Liars spoilers—I know you have them!
Remember a few Spoiler Chats ago when we asked our fellow PLL fans if they happen to enjoy pie? Well, get excited, Ezria lovers because Marlene King just spilled a new romantic morsel about everyone's favorite teacher/student duo. "Well I can hint that there are two pie episodes in the summer season that involve Ezria," the executive producer shared. "After the 100th episode they have one more pie-sharing experience." We're going to let your imaginations run wild, but let's just say you'll never look at pie the same way again!
Lauren: Don't judge me, but I'm actually ready for another Sharknado movie. What have you heard about it?
"Can you ever really be ready for a Sharknado?" star Ian Ziering told us. "You have to make snap decisions in a moments notice and that's what my character does."
The former Beverly Hills, 90210 star told us the sequel is "just as good as the first one, only better!" And even though Syfy already announced a third film, he's staying mum on his involvement. "It's nice to be an action hero in a science fiction movie, especially one that's got global impact." But he's already thinking up locales for the third flick. "I think it should be a European city. We have so many foreign fans, I think we should take the movie to them," Ziering said. "I thought wouldn't it be great instead of demolishing a city, if we, through a Sharknado, could rebuild it? Wouldn't it be fantastic if we went to Italy and a Sharknado straightened the Tower of Pisa."
Daniel: Never any love for The Goldbergs. Not cool, totally not cool!
Let us make it up to you, child of the '80s! "Every season we're going to pay homage to one of Adam [Goldberg]'s favorite '80s movies, so we did the Goonies last year," Troy Gentile recently spilled to us. "He said this year we're going to pay homage to a John Hughes film, so I'm hoping for The Breakfast Club." 
Leslie: Any Hart of Dixie info to share with us? It's just so adorable!
Prepare to meet Bluebell's volunteer fire department, which will be headed up by Jaysene, the spunky and sarcastic new coach who must get the rag tag gang into firefighting shape. Hm…we wonder which dashing Bluebell leading man will be rocking  the uniform. (Fingers crossed, all of them.)
Got a TV question? Tweet it to @kristindsantos or leave it in the comments below and you may be part of the next Spoiler Chat!
SPOILER CHAT comes out every Tuesday at 9 a.m. ET/6 a.m. PT. Bookmark the link!