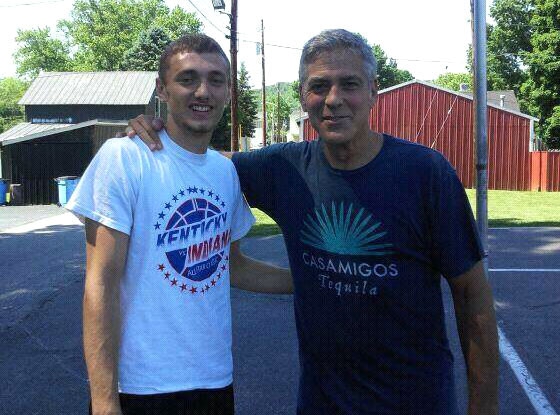 Facebook
Not only is George Clooney handsome, talented and intelligent—he's also humble and has tons of school spirit (cue pom-pom shakes for Georgie!).
The 53-year-old A-list actor was spotted shooting hoops recently in his hometown of Augusta, Ky., and was joined on the court by Brent Bach, a recent graduate and career-leading scorer at Augusta High School, who also just so happens to be the son of Clooney's prom date!
"Guess who just called me and ask if Brent could come to St. Augustine school and play basketball? My old friend George Clooney," Laurie Laycock Bach wrote on Facebook with a photo of the duo.
"He said he had kept up with Brent's basketball and was very proud of him and wanted to play him a game. Still the same old George!! It was nice that he called to say hello and to talk about Brent. He said he was going to keep up with his college games too."
Seth Poppel/Yearbook Library
The 18-year-old point guard will be going to college at Bellarmine University in Louisville to play basketball in the fall, and tells E! News that Clooney wanted to tell him how proud he was for leading his alma mater to back-to-back district championships.
"He said, 'Let's get a photo,' and so we did. He told me he was proud of everything that I had done [for the basketball team]," Bach tells us. "I did a lot of great things for the team. I led our basketball program to back-to-back district championships. I'm the all-time leading scorer in the history of the school. I knew what he meant when he said that to me."
Brent added that Clooney and his father have kept in touch via email, and that the celeb was keeping track of his basketball career that way. "He said he was proud of me and everything I had done with basketball and told me to keep trying to do everything well and keep chasing my dreams," he said. "He patted me on the back and then ran up the road."
Kevork Djansezian/Getty Images for AFI
Clooney was in town for a family reunion, and while the "jokester"—as Brent describes him—is very successful and famous, it's his down-to-earth attitude that encourages Bach.
"I've always looked up to him. I would love to live his lifestyle. He is a really good role model. He has all of this success and he gives back and I think that is a very good thing and I would like to be like that. I like the things he does around the world. I want a lot of success and money and I want to give back and help people when I can. He just didn't do this all on his own," Bach tells E! News.
"He is really down-to-earth and he is really nice. Being a big movie star, when he comes back to the town where he grew up, he treats us all the same and we treat him like he is just an ordinary guy and I think that is what he likes about coming here," he adds. "Even though we don't get to talk as much, he is a good guy and he tries to keep in touch whenever he is in town. He is a regular guy and I'm really thankful that I got to meet him."