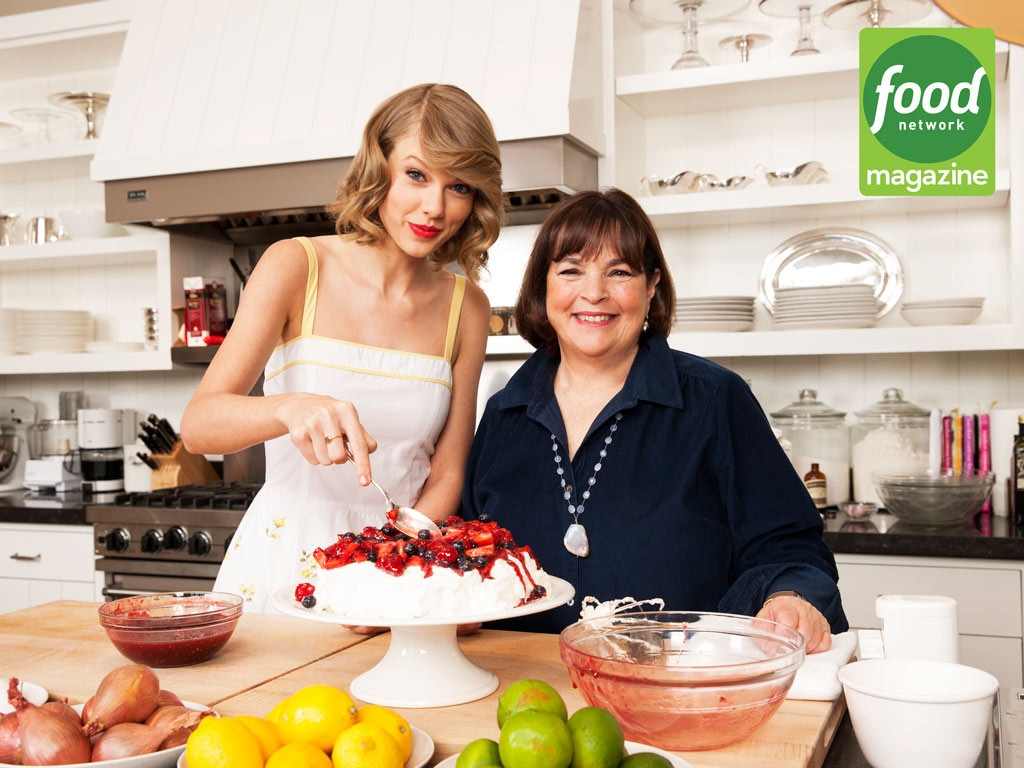 Jake Chessum/Food Network Magazine
Taylor Swift and Ina Garten recently became fast friends, and it's all thanks to Food Network Magazine!
The "Sweeter Than Fiction" singer, 24, and the Barefoot Contessa host, 66, teamed up for the magazine's first-ever July/August Music Issue, on stands June 24. Taylor, who owns all of Ina's cookbooks, traveled from her Tribeca apartment in New York City to the Hamptons to meet the celebrity chef. Taylor invited her mother, Andrea Swift, and brother, Austin Swift, to join her.
When the trio arrived, Ina was in the midst of slicing warm date bread and getting coffee ready for her guests. "Just another day at Barefoot Contessa," joked the TV personality, whose show debuted in 2002.
Taylor and Ina baked a mustard-roasted fish in the oven and spread whipped cream on a Pavlova, all while bonding over their mutual frustration for people who don't like to eat. "I'll cook for these boys, and they'll be like, 'I'm on a diet,'" the country crossover artist said. "I'm like, 'I can't hang out with you.'"
Jake Chessum/Food Network Magazine
Ina then shared a similar story in which a guest claimed she was on a cleanse before downing an entire whiskey sour—and then had the gall to ask for another! "Oh, I've never had a whiskey sour," Taylor said.
As luck would have it, Ina had the ingredients on hand. "I have some in my refrigerator!" she told Taylor.
"Hey, Andrea," the singer called. "Come over here. We're day-drinking!"
Andrea and Austin joined the duo and tasted Ina's favorite cocktail. The foursome then started spooning the Pavlova. "I don't always eat it this way," Ina said, laughing about their group decision to forgo plates.
During their impromptu sit-down lunch, Taylor invited her "hero" Ina to visit her home and see her perform one day. After they left, Ina looked around her kitchen and marveled, "Did that really happen?"
Other chefs and musicians paired in Food Network Magazine include Iron Chef America's Geoffrey Zakarian with rapper Ja Rule, Sandwich King's Jeff Mauro with Smashing Pumpkins frontman Billy Corgan and Food Feuds' Michael Symon with rock legend Sammy Hagar. Additionally, Food Network in Concert at Ravinia will take place on Sept. 20 in Highland Park, Ill. John Mayer will headline the event and be joined by Twin Forks and Raul Midón, plus Food Network stars Sunny Anderson, Anne Burrell, Jose Garces, Alex Guarnaschelli, Mauro, Marc Murphy, Zakarian and 50 chefs from around the country.