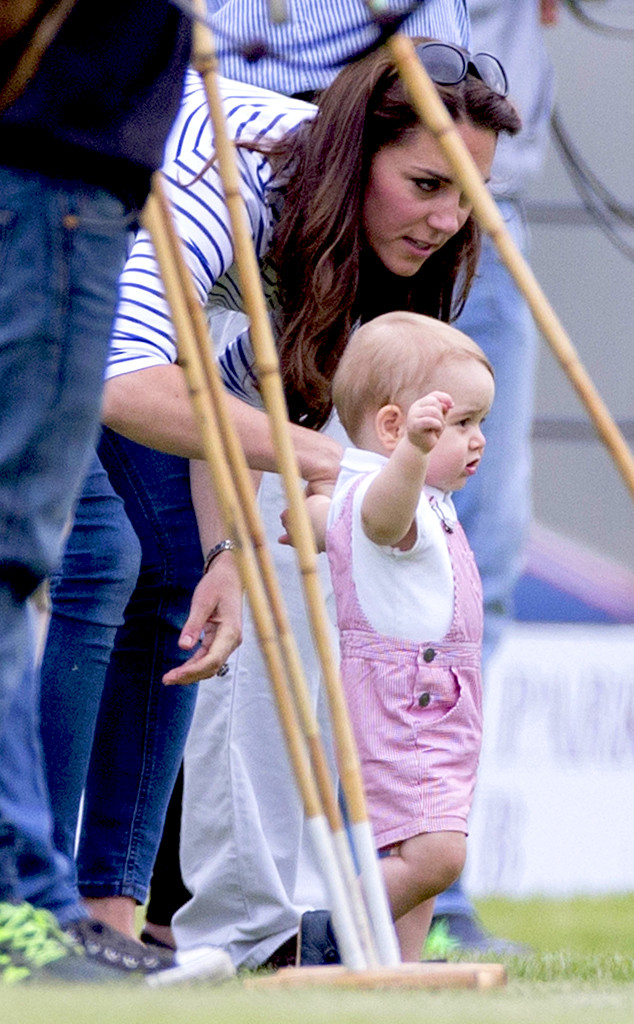 © i-Images, PacificCoastNews.
Walk this way on Father's Day, Prince George!
Last week, Kate Middleton revealed that her 10-month-old son has taken his first steps, and on Father's Day, she helped him walk during Prince William's polo match at Cirencester Park in Gloucestershire.
The Duke and Duchess' son practiced walking to his jubilant mother while they were standing on the sidelines. William, meanwhile, was playing to raise money for Centrepoint, which helps the homeless.
It was an "impromptu family day out," Clarence House said.
George has not been seen in public since his family left Australia on Apr. 25 following a 19-day tour.
FameFlynetUK/FAMEFLYNET PICTURES
Middleton modeled blue jeans, her favorite striped shirt from Me + Em, sunglasses and boat shoes. Her son, meanwhile, was dressed in a pinstriped red and white jumper, a white polo shirt and black shoes.
Sex and the City's Kristin Davis and Downtown Abbey's Michelle Dockery also attended the polo event.
As William and Prince Harry competed on the field, George grabbed at polo mallets lying on the ground. The future King of England, who is third in line to the throne, was also seen kicking a soft soccer ball.
Attending and participating in sporting events is important to the royal family. Less than a week after George's first birthday, his parents and his uncle will attend the Commonwealth Games in Scotland.