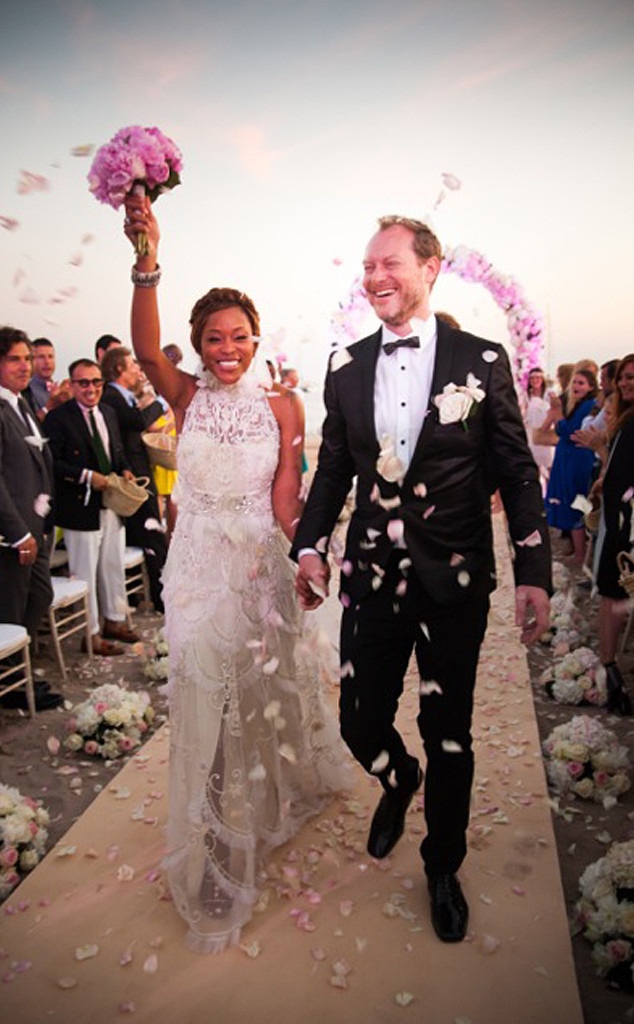 Photo Graffiti
Congrats to Eve and Maximillion Cooper!
Wearing a gorgeous wedding gown by British designer Alice Temperley and a cathedral-length veil, the 35-year-old hip-hop star and xXx actress wed the British Gumball 3000 motor rally CEO and co-founder and fellow fashion designer on Saturday, June 13 in Ibiza, Spain.
"I'm so happy to make Eve my wife," Cooper told E! News exclusively. "The whole experience has been amazing and we are both so happy to have tied the knot." 
"We met on the 2010 Gumball 3000 rally so it only seemed right to have the wedding at the finish of this years rally in Ibiza, which was the final stop on this years event," he said. "We couldn't be happier to celebrate such a special day with all our family and friends."
This marks the first marriage for Eve, who was born Eve Jeffers in Philadelphia. The two have been together for about four three years and got engaged on Christmas Day last year. He shares four children with an ex-wife.
Eve told E! News on Wednesday that they are "the coolest, sweetest kids" and that she would like to have two of her own with Cooper.
The two spent the past week ''racing'' towards the aisle! Eve and Cooper took part in his annual Gumball 3000 rally. The rapper had said they planned to wed after the international event, which ended on Saturday.
The two told the British fashion website iD-VICE that they had first met at the 2010 event. Cooper said the two have "been together every day since." The Gumball 3000 website dubs Eve the "First Lady of Gumball." 
The 3,000-mile rally takes place on public roads and spans across 13 countries. This year's event began in Miami and went through Daytona, Atlanta, Charlotte and New York, where the drivers' vehicles were flown to Scotland. Participants traveled there separately and picked them up to drive through England, including London's Regent Street, a busy shopping destination, and board ferries that would take them to Paris and beautiful, sunny Ibiza, a popular party spot in Europe.
Cooper shared from their trip on his Instagram page many photos and videos, including one of Eve racing in Scotland and shots of David Hasselhoff, star of Baywatch and talking-car show Knight Rider. The rapper also got to relax by the pool and party it up in Ibiza.