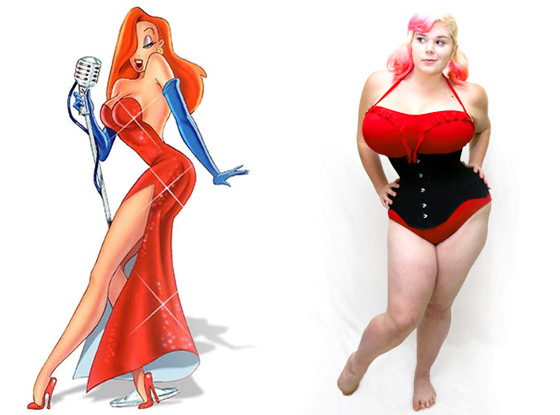 Touchtone; Barcroft Media /Landov
Jessica Rabbit's not bad—she's just drawn that way.
Penny Brown, a woman using surgery and corsets to try and look like the Who Framed Roger Rabbit? vixen, can't say the same! In an effort to recreate Jessica Rabbit's extreme hourglass figure, the 25-year-old pinup model got breast implants (taking her from a 34H to a 36O) and found a way to squeeze her waist into a 23-inch corset!
"I've been obsessed with Jessica Rabbit from a really early age," Penny tells the U.K.'s Mirror. "I think she is incredibly sexy and there's a real power and strength to her character. I've always wanted to copy that—at five I was already thinking about breast implants."
The Australian-born woman, who now lives on the small island of Okinawa, Japan, hopes to have yet another surgical augmentation to make her O-cup boobs bigger, explaining that she's "kind of a go hard or go home sort of person."
"The bigger they are the better," she says of her lady lumps, "and I don't think I'll ever be big enough."
And while Penny says she loves "my body and my shape," she'd "still like to have more extreme portions." She will "keep having breast surgery until my boobs are as big as possible," but insists she'd "never consider surgery anywhere but my breasts..."
OK then. Fortunately, Penny's husband is totally on board. He tells the Mirror that his wife "is as close to Jessica Rabbit as any mere mortal can get," gushing, "Her shape is exciting and interesting."
Roger Rabbit would probably have to agree.