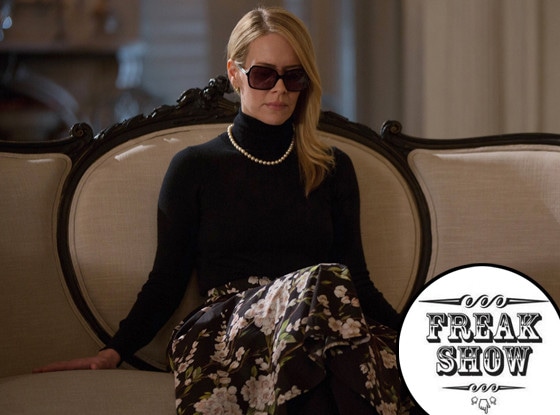 Michele K. Short/FX
Come one, come all to the scariest show on television!
The cast of American Horror Story is gearing up for their fourth installment of the critically worshipped series, and flying high after the spellbinding success of Coven—aka the most-watched season in AHS' history—our chameleon cast is ready to embrace a new terrifying twist with Freak Show. 
Set in Jupiter, Florida in 1950, the consistently incredible Jessica Lange will play a German ex-pat who is managing one of the last freak shows in the United States. With Oscar winner Kathy Bates, Angela Bassett, Frances Conroy and many more of AHS' all-star cast ready and willing to transform themselves into some of the strangest characters we've ever seen, Freak Show is already shaping up to be the most intriguing season yet.
To feed your AHS addiction, we caught up with everyone's favorite Supreme, Sarah Paulson, at an American Horror Story: Coven screening and Q&A last week to find out absolutely everything we could about Freak Show. 
Paulson, who has already read the very first script for Freak Show thus far, said that her initial reaction was best summed up in two words: "Holy s—t!"
"I feel like that's the appropriate reaction you want when you read the first script of American Horror Story," the Emmy nominated actress explained with a laugh. "So it's very exciting and totally nerve-wracking in the best way because you think, 'How the hell am I going to pull this off?!' And as an actor, I think that's an exciting thing to feel."
As for next season's tone, Paulson spilled that Freak Show is looking to be "a kind of beautiful hybrid between Coven and Asylum." Our mouths are already watering because that sounds like a perfectly horrifying combination! 
"There's going to be a little bit of a richer and potentially darker tone the way Asylum had, but with the humor infused from Coven," she said. "When you add Kathy Bates to the story, she's so funny, and Emma Roberts was so funny last year as Madison, I just think it's going to be a really beautiful mix of both." 
Dressed in a black Marc Jacobs dress that was very Coven-esque, Paulson revealed that she is thrilled to see what AHS creator and executive producer Ryan Murphy is going to manifest this year.
"His interests tend to go towards the female and the intricacies of the female heart and mind and I love him so much for that because, boy, he has thrown the ball at me in a really beautiful way," the 38-year-old actress said. "I worship at the altar of Ryan Murphy and I always will."
So what kind of unique trait has Murphy asked Paulson to master in preparation for her new role? "Well, I don't know if it's a trait," the actress slyly teased." But it's requiring a lot of physical things." Hmm, any ideas, AHS fans?!
Whatever her new role may be, Paulson revealed that there is no fear she won't conquer for American Horror Story. "I've had live snakes on my body. I've had to feign masturbation on television, which my father would have to watch. I had to simulate abortion, I had to breastfeed one of my best friends who is a 35-year-old man," she said with a laugh. 
"I mean you name it and I've had to do it on American Horror Story. There's nothing I won't do at this point—and that's what's terrifying."
American Horror Story: Freak Show is set to premiere this October on FX.