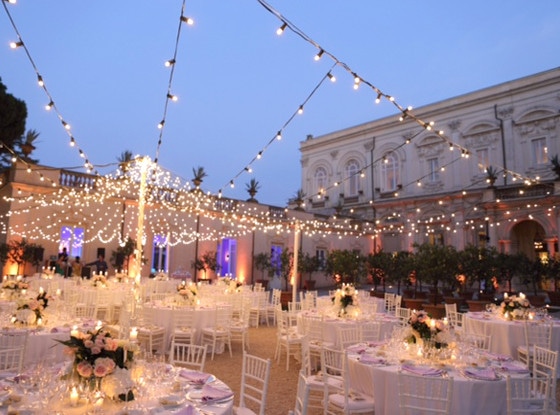 Courtesy: Regency Events
Ever since Kim Kardashian and Kanye West's lavish Florence nuptials last month, we've come down with a serious case of Italian wedding fever. With images of resplendent Italian forts, designer wedding guest outfits and a breathtaking Givenchy wedding gown, it's a fair assumption that many a single lady will have her heart set on an Italian wedding.
Whether you're interested in embarking on an Italian destination wedding yourself or just day dreaming about one, we've got you covered.
Paolo Nassi, the CEO & President of Regency 1987, opened up exclusively to E! about everything you need to know when planning an Italian wedding.
1. Picking the Perfect Venue: There are loads of picturesque wedding venues to choose from in Italy, but bear in mind that these locations are often centuries old.
"Weddings in Italy very often take place in historical and artistic sites that may go back to periods as far as the year 70 AD," Nassi said. "Therefore, there is always a risk of structural failure that is not always predicable. A fresco can start peeling and crumbling off a wall or ceiling…pieces from the roof could come apart."
Nassi also suggests having a plan B if you're considering an outdoor venue. "Many historical sites such as the one chosen by Kim and Kayne are wonderful for an outdoor location, but many do not have indoor spaces or they are not allowed to use the inside for parties due to the historical works," Nassi said. "This means that in case of bad weather the risk of a disaster is huge if you do not plan to have a tent set up…  it is essential to have a tent ordered or rented to be safe."
2. Finding the Right Flowers:  Whether you're in Tuscany or Tahoe, no wedding is complete without fresh cut flowers. Nassi has two main tips for picking floral arrangements for an Italian wedding.
"Most of flowers that are used in Italian weddings come from Holland. They are surely of high quality and beautiful at any time of the year," said Nassi. "It is a shame to follow this trend because in the end many of the floral arrangements look alike."
But if authentic Italian flowers are more your style, Nassi knows the drill. "In Italy, especially the Italian Riviera, there are many gardens with really special crops of flowers," Nassi said. "These are seasonal flowers, and with these flowers it is possible to make unique floral designs that you won't see anywhere else."
3. Insider Italian Food & Wine Tips: Can an Italian wedding really be classified as such if there's no Italian food? We think not. According to Nassi, the key is knowing the best local seafood.
"The fish that comes from the Tyrrhenian Sea, which goes from the Italian Riviera all the way to Sicily, thanks to a particular salinity of the water is much more tasty and flavorful compared to fish from the ocean," Nassi said. "Any fish, but certainly the Mediterranean lobster, therefore has a more intense and enjoyable flavor than the same lobster caught in the Caribbean or other parts of the world."
And as for selecting the perfect bottle of vino? "In Italy they have been making wine since 2000 [B.C.]," Nassi said. "This has brought about the presence of 355 different varieties of grapes. In the rest of the world the big wine production is based on the usual 10 varieties…Therefore, when choosing [Italian] wines it is recommended to get advice from experts."
4. Do Your Vendor Research:  Nassi strongly recommends getting the scoop on vendors to find which will offer the most bang for your buck. "The biggest mistake and unfortunately the most common is going for the cheapest deal here in Italy," he said.
"The idea that some suppliers here in Italy initially try to inflate the prices is true, and therefore it is important to ask for different price quotes and make comparisons to avoid those who try to take advantage of people," he said. "That said, then you need to look at the value you get for the money, because very often a very low price corresponds to a matching quality or inefficiency of the service."
5. Finding a Company That Offers Civil Validity: What is civil validity, you ask? It's the coupling of a civil and religious/symbolic ceremony into one, which often is impossible in Italian weddings.  
"It is definitely a shame to start a new life as a couple in a story of fiction: That is, to pretend to join [a couple] together for the first time in matrimony when actually they already did [before the ceremony]," said Nasi.
"It is a shame also because the emotions of the ceremony are definitely a minor part and in the end the couple's experience is not the same as it would have been if they were truly getting married for the one and only time. In Italy there is only one company that can guarantee this service: Regency 1987."