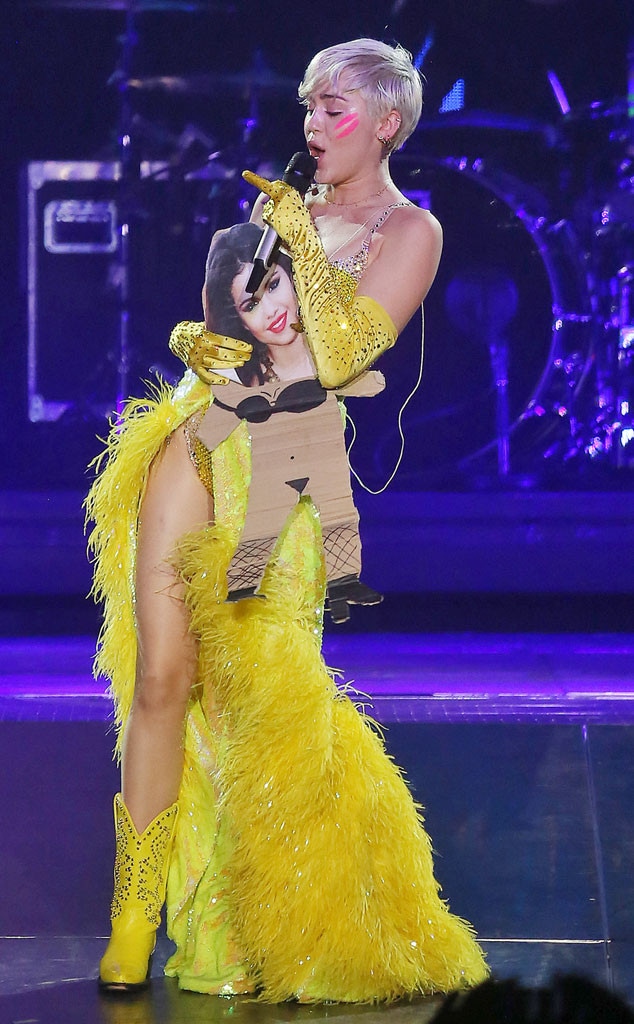 Photopress / Splash News
Dare we call a feud alert between these two former Disney darlings?
During her recent Bangerz concert in Milan, Miley Cyrus gave a not-so-subtle hint that she has some beef with Selena Gomez after she hurled a cardboard cutout of the star into the audience.
In the shocking clip, which was captured by a number of fans, Miley grabs the Gomez poster from an audience member and proceeds to chuck the cardboard cutout at the crowd all while singing her hit tune "F U."
Safe to say the two may have a few unsettled issues.
No word yet what prompted the 21-year-old pop star to diss her former friend, although in standard Miley Cyrus fashion, she may just be trying to stir up controversy (or maybe she's just being Miley?). 
Gomez has yet to respond to Miley's eyebrow-raising gesture (her rep is not commenting, either) while Cyrus has yet to explain the reason behind her epic diss. 
The brunette beauty most recently tweeted a beautiful photo of herself while the short-haired stunner has been busy tweeting throwback pics with her fam. 
This isn't the first time Cyrus has stirred up controversy with a fellow pop star. She previously fired back at Katy Perry after the two shared a smooch in concert. 
"I just walked up to her to give her like a friendly girly kiss, you know, as girls do," Perry said while talking about their kiss on the Australian talk show Sunrise, "and then she like tried to move her head and go deeper and I pulled away."
She added, "God knows where that tongue has been…We don't know! That tongue is so infamous!"
Miley's response? 
"Girl if ur worried abt where tongues have been good thing ur ex boo is ur EX BOO cause we ALL know where THAT been," she tweeted, clearly dissing John Mayer before adding, "Dontchyouuuu act like you didn't lurvvvvv it."
Ouch.