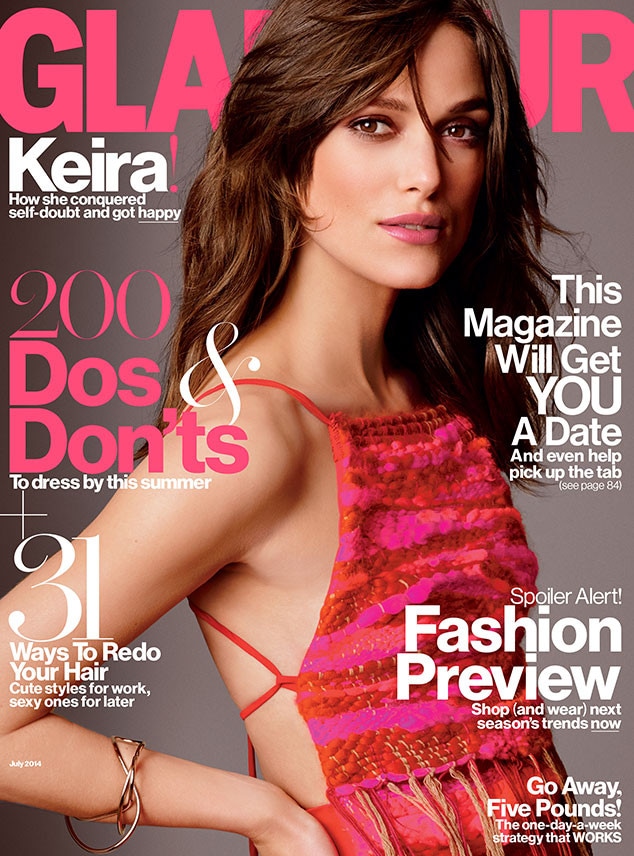 Tom Munro
Keira Knightley is full of surprises.
Case in point? The Oscar-nominated actress only gives herself a $50,000 salary because she believes that living an expensive lifestyle "alienates" her from others.
"I think living an expensive lifestyle means you can't hang out with people who don't live that lifestyle," the 29-year-old beauty muses in the latest issues of Glamour magazine while looking stunning on the cover in a pink backless Altuzarra dress. "It alienates you. Some of my best most hilarious times have been in the least luxurious places."
After taking a yearlong break from film, the Anna Karenina star is back and better than ever following her marriage to Klaxon keyboardist James Righton. The two said "I do" in France last May and despite her seemingly wedded bliss, the actress admits she's never been the marrying type.
Dominique Charriau/WireImage
"No! Not at all!" she replied when asked if she's always been a fan of marriage. "Actually my parents kept saying 'Why bother?' I think they only [got married] to get a mortgage. But when James proposed, I just thought, Well never done that before. It seemed like a fun thing to do."
Talk about an interesting reply to a proposal.
Like her approach to marriage, Knightley has always done things her way, despite what critics may say. For example, she donned a shocking Chanel number for the Tribeca Film Festival in April, and despite the backlash, she doesn't regret her fashion risk.
"When we were getting ready that evening, we were all going, 'They are soooo going to hate me in this, but they're so wrong.' Apparently the reason they were so mean was because they thought the dress was unsexy. I wasn't intending to be sexy. This idea you have to be sexy on the red carpet—that dress made me very happy."
Knightley has also found happiness as she near her thirties after admitting to loathing her teens and early twenties.
"There are those who manage that time of their lives really well—doing a lot of partying and making a lot of mistakes and thinking the world is only there for you, but I was way too introverted, and there was always this s--tload of photographers, who made it worse," she confessed to the mag. "When I hit 25, for some reason I didn't care anymore—I allowed myself to chill out. Since then, everything's been amazing."
As for her decision to do a rom-com following a string of successful dramas?
"[W]ith a feel-good film you are always risking going way too cheesy," she said. "But maybe I can have a little holiday where I'm not playing a character who is being destroyed."
Another thing that may surprise you about the talented thesp? She suffers from stage fright.
"I have really suffered from stage fright, or actually camera fright," she admitted. "[Because] you are presenting layers and layers and layers of pretending, and it's not just you but other people in charge of your face or your body or your hair."
Knightley also has nothing but praise for her Begin Again co-star Adam Levine, whom she admitted played a "d--khead very well."
"Actually I admire him being so willing," she said. "To play a d--khead is quite a big thing when you're trying to break into film and you want to be likeable."
The self-described feminist also hinted at her desire to have children although she admitted that "feminism is a tricky word."
"I think it's about equality," she revealed. "I was talking to a male friend about this the other day who's just had a baby girl, and because he's the one staying home to look after her, he went to this mother-and-baby class, and all the mothers were going, 'Oh, is the baby having a day with Dad?' I mean, not to have the freedom to do that [if you are male] is as bad as saying it's a woman's duty to look after the children."