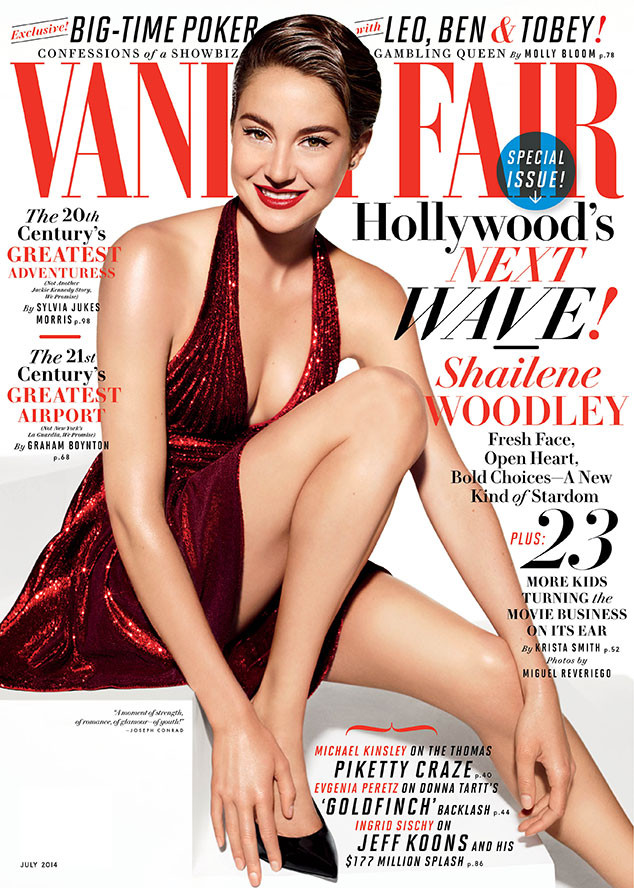 Miguel Reveriego exclusively for Vanity Fair
Could Shailene Woodley and Miles Teller be Hollywood's next platonic power couple?
The actors, who played love interests in The Spectacular Now and mortal enemies in Divergent, have become best friends off-screen. "I look at Miles and, like, I'm sort of Julia Roberts in the same way she is to [George Clooney]," The Fault in Our Stars' Woodley, 22, says of Teller, 27, in the July 2014 issue of Vanity Fair. "Their relationship I could see being our relationship in 20 years, and that really is special."
Woodley knows Clooney well, of course. She earned raves for her performance as his rebellious daughter in 2011's The Descendants, and Clooney continues to play a paternal role in her life today.
"Somebody came to me and said, 'I can't wait to see what you do next.' I took that as pressure—that I had to live up to somebody else's expectations," Woodley recalls. "There were a few months where I was like, 'I don't want to act anymore.' And then I got over it and realized it's none of my business what other people think of me." Clooney, she says, "has been an angel in my life for many reasons."
"He knew everyone's name on set," she says of the 51-year-old actor, who once joked that he'd like to adopt the up-and-coming movie star. "He treated everyone as an equal and everyone got his warmth."