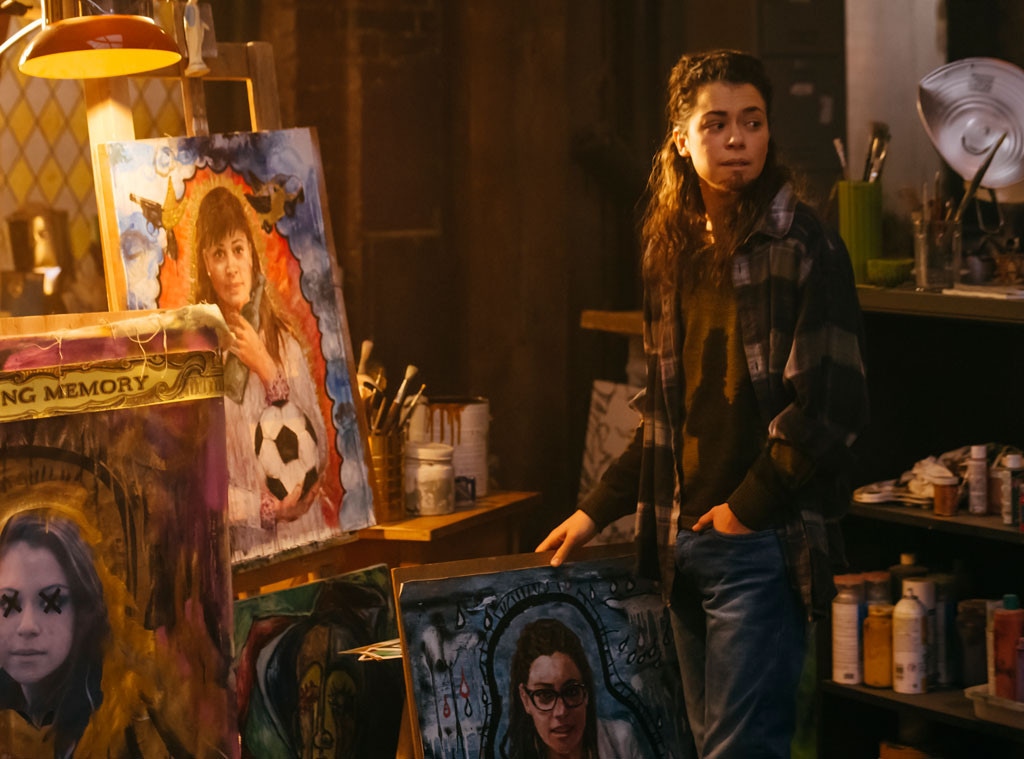 Steve Wilkie for BBC AMERICA
This meeting of the Clone Club is now in session. First order of business? All the scoop on the creation of Tony, the transgender clone.
Two days have passed since Saturday's episode and Orphan Black fans are still freaking out about the BBC America's most recent jawdropper: the latest clone, Tony, is a guy. Yes, it's official: Tatiana Maslany is a goddess amongst actors. 
E! News sat down with creators Graeme Manson and John Fawcett at the 2014 ATX TV Festival in Austin this past weekend to learn Tony's origin story.
"We felt Tony, being trans, fits into a show about identity very well and we really thought that he hit the show, that he hit the premise and that it wouldn't feel like a stunt," Manson explained of Tony's introduction. "In season one, we set forth our show's premise on issues of gender and sexuality…the fact is, it's show about identity and we celebrate diversity strangely within clones, so for us, it felt like a whole. It felt like he belonged in the show."
When we asked if there was any hesitation to introduce a transgender clone, Manson said, "We knew it's a challenge and that it can be a bit of a minefield, but we just wanted to approach it from the proper place and the process of discovering that character was very honest and collaborative with myself and John and Tat and her hair and makeup team and the writers."
And it was a collaborative effort that first kicked off in season one, Fawcett revealed.
"We had just wrapped season one, and we went out to dinner with [Tatiana] and we were going to pitch this idea to her," he explained, "And she had already come up with the idea, her and her hair team. They had already been talking about a character like this. I mean, it's obviously important to us that Tat is behind us in what we want to do in creating new characters, so the three of us went, 'OK, let's do it.'"
But another actor played an integral role in Tony's introduction: Jordan Gavaris, who plays fan favorite Felix, Sarah's adoptive brother who shared a buzzed-about smooch with Tony. Fawcett said Gavaris was "excited and terrified" when he learned of the plan for Tony and Felix, with Manson adding that Gavaris was "terrified" of the fan response leading up to the episode's airing, as well as its early screening at the TV festival. "He's so terrified, he's texting me! He's been texting for two days. He's really excited."
And Manson has high hopes for Felix and Tony's kiss, joking, "Think they'll win the MTV kiss? Peabodys? Whatever! We want the MTV kiss!"
Alas, fans hoping for a repeat kiss (Bueller?) probably won't get one this season as it doesn't seem likely we'll see Tony in the final two episodes of the season. "We don't really want to say. Obviously, it's crowded and we're very interested in seeing Tony again, but nobody's going to break into the triumvirate of Sarah, Allison and Cosima," Manson explained. "That's important. There are other clones, but to tie them all tightly is a difficult thing to do, especially when we're dealing so heavily with Rachel this season."
Another new clone, however, is entirely on the table as Manson and Fawcett said they have no cap on the number of clones they'll introduce throughout the course of the series. 
"We don't have that," Fawcett said. "We don't know and we don't think the clones know and it's definitely part of the mystery: How many of us are there?"
But don't expect the Clone Club to get too big, as Manson added, "But it's not like you're going to get half a dozen new clones a year."
Orphan Black airs Saturdays at 9 p.m. on BBC America.