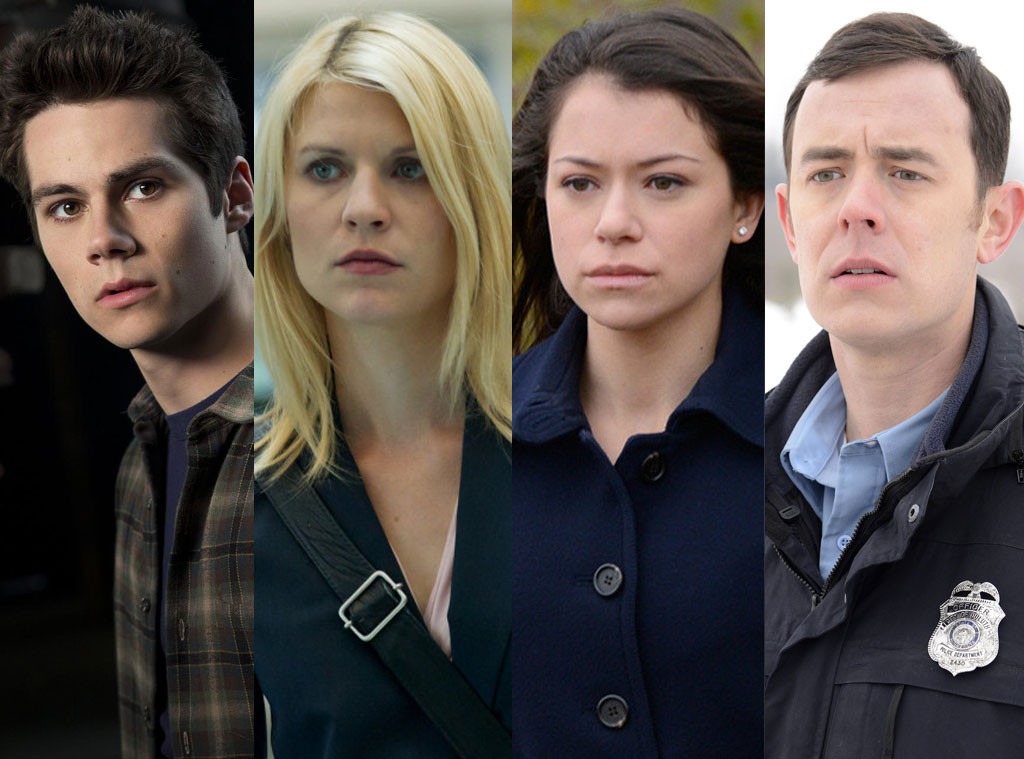 F/X, Showtime, BBC, MTV
Got that summertime sadness? We find that hard to believe!
Why? Because there is just so much good TV on right now, and we've got scoop on some of the season's hottest offerings in today's Spoiler Chat. Not only do we have details on two highly anticipated finales, Fargo and Orphan Black's, respectively, we also have scoop on a fan favorite Teen Wolf pairing's season premiere shenanigans. 
Plus, we have spoilers on the upcoming seasons of Homeland, House of Cards, Glee and more...
Mike N.: I'm getting excited for the new season of Homeland. Any scoop to share?
Prepare to meet a major new player in season four as House of Cards star Corey Stoll is set to join the series. "I'm the station chief in Pakistan and up-and-coming in the agency," Stoll previewed for us. "I think that's all I can say, I'm sorry!" OK, he did spill a bit more, like who he will be sharing a lot of scenes with: "I am working with Claire [Danes]," he confirmed.
amykinz13: Please let us know about all things Stydia!!
In Teen Wolf's season four premiere on June 23, fans can expect to see Stiles and Lydia hit da club…along with Scott, Malia and Kira. Oh, and you can expect to see two of the five people listed above engage in some seriously dirty dancing. (Unrelated to dirty dancing: Stydia gave us some serious Seth and Summer in TJ vibes.) Also?  The last scene is maybe one of the series' most shocking cliffhangers. Ever.
Laura: Orphan Black is my everything right now. What can we expect from the finale?!
Seat belts on, Clone Club! "It's going to be quite a ride," boss Graeme Manson teased, while his co-genius showrunner John Fawcett added, "It is jampacked and it's a thrill ride." But will it end on a massive cliffhanger a la season one's final moment? "It's a little different, but hell yeah," Manson assured. And yes, we can expect to see Paul factor into the final two eps, with Manson previewing, "Paul may be gone, but he is not forgotten, and he's important."
Greg: I already finished Orange Is the New Black and now I need House of Cards back. I can't wait another half a year for more Frank Underwood. Do you have anything on the new season?
We totes feel you. Next season will see new faces pop up in DC. Will they be friend or foe? We're not telling, but get ready to meet Dr. Buzdar, a doctor in her 40s who is described as "very smart." Meanwhile, Anto Ivonovich, a Russian man described as "formidable" and "refined" will recur.
Dylan: There's no way Fargo can top that last episode, right?
You betcha…you're so wrong! "Wait 'til you see. You're not going to believe where it goes," Keith Carradine told us of the FX hit's finale, advising fans to "expect the unexpected." Boss Noah Hawley, meanwhile, teased the final hour in just one word: "Bloody." Gulp! He then previewd Lester and Malvo's dynamic, saying, "Can the student surpass the master? I guess that is the question that [fans] should be thinking about going into the last two episodes." For scoop on a potential season two of Fargo (Yes, really!) check out the rest of our chat with Hawley. 
Hannah: The Night Shift is surprisingly awesome and I am so glad to have Brendan Fehr back on my TV!
Then do not miss episode six...and that's a direct order from Brendan Fehr himself. "It's a really good episode for Drew," Fehr spilled, adding that it deals with the closeted surgeon's love life. "He does have a significant other...it really comes to a head in episode six," Fehr explained. And playing Drew's love interest? Brothers & Sisters' Luke Macfarlane! "He was such a wonderful guy, I really loved him," Fehr gushed. "He's a great actor and we got along so well."
Veronica: I'm still trying to come to terms with Glee ending next season. There are so many guest stars I want back so we can say a proper goodbye. What do you know?
We know one actress who might be coming back for one last hurrah: NeNe Leakes. The Real Housewives of Atlanta star told us she's been in talks to pop up once again. "I hope I'm back for Glee's final season as well," NeNe told us. "We've been talking back and forth, I'm hoping to be back. I've done it for three seasons. I'm happy to go there, I love the cast, I love Ryan Murphy, I'm happy to go back."
Cynthia: Will season one of Playing House end on a cliffhanger? I'm dying to know what happens to Emma and Mark!
Glad to hear we're not alone in obsessing over the greatness that is Playing House. And as a reward, some scoop straight from creators and stars Jessica St. Clair and Lennon Parham: "In the last three episodes, some juicy confessions cause Mark's wife, aka 'Bird Bones' to go into a tailspin (pun intended), leaving room for sparks to fly between Mark and Emma," the duo told us. "Will they catch fire or will he return to the nest? You'll have to watch to find out!" We'll be eating some Cadbury Cream Eggs in the corner if you need us.
Got a TV question? Tweet it to @kristindsantos or leave it in the comments below and you may be part of the next Spoiler Chat!
SPOILER CHAT comes out every Tuesday at 9 a.m. ET/6 a.m. PT. Bookmark the link!