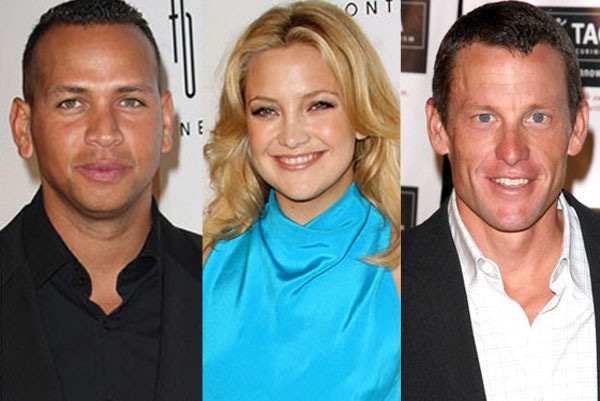 Getty Images
Kate Hudson is finally breaking her silence about the scandals surrounding her ex-boyfriends.
The bubbly blonde confessed that she was "as shocked as anyone" after Lance Armstrong admitted to using performance-enhancing drugs during the majority of his cycling career.
She also talked about the recent allegations that her former beau Alex Rodriguez had used banned substances, such as testosterone lozenges and creams, when he was playing for the New York Yankees during the 2012 season.
"I personally think that you make the choices you make and you should reap the consequences," Hudson said in her recent interview with InStyle magazine.
"People have a right to [feel betrayed]. Lance and Alex are phenomenal athletes who have made some bad choices and let a lot of people down."
The 35-year-old star added, "It's a decision they made for themselves and they've got to loathe it."
Hudson dated Armstrong for several months in 2008, shortly after her split with Owen Wilson.
And after parting ways with the now infamous cyclist, the actress began spending quality time with A-Rod in the spring of 2009.
The two dated for almost a year but called it quits in early 2010.
Hudson graces the cover of the July issue of the fashion mag in a colorful bikini which shows off her enviable bod.
So what workout keeps the mother of two in such good shape?
"Dance has always been the driving force of what gets me motivated to exercise," she admitted during a behind-the-scenes video.
"But like everything, you have to have a certain discipline. You have to make yourself do it."