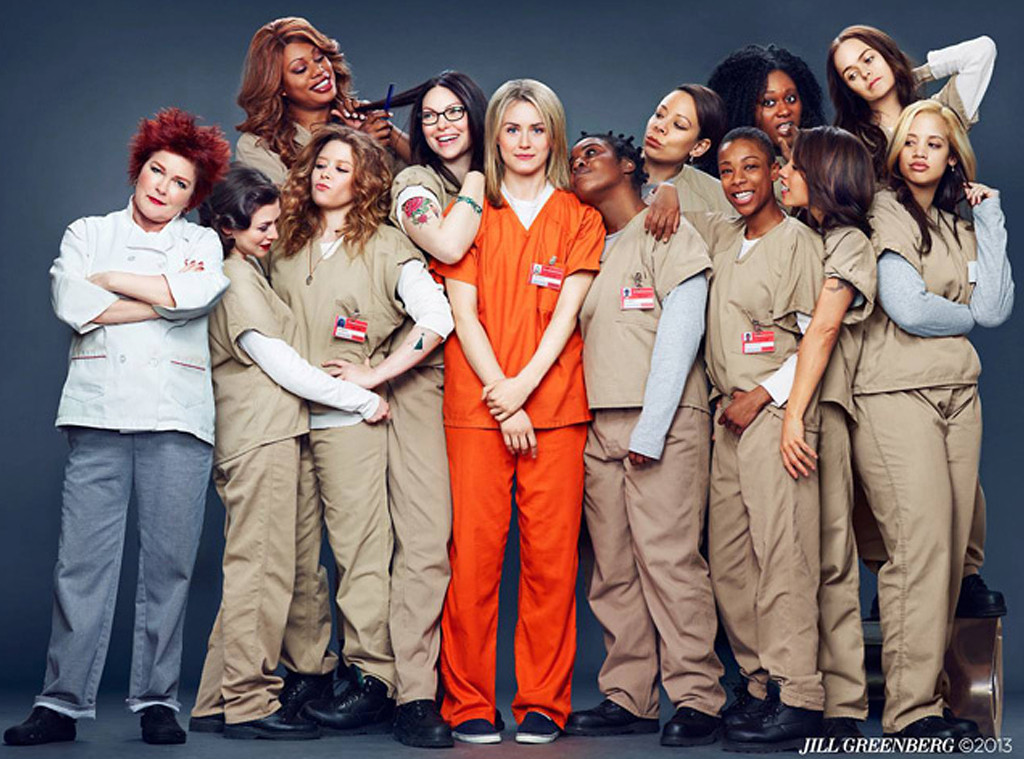 Jill Greenberg/Netflix
Orange Is the New Black returned with a vengeance. The second season was filled with badass Piper (Taylor Schilling), one mega villain and so many heartbreaking moments packed in to 13 episodes. If you binged the entire season this weekend (you know you did, there's no shame in admitting it, we did it too) your brain is probably so packed with Orange Is the New Black thoughts and feelings that you REALLY need to talk about it with somebody who also has no life finished the season over the weekend. We're here for you. Let's chat about the heartbreaking moments, K?
Warning, spoilers.
1. Morello's story: Lorna Morello (Yael Stone) didn't get the attention Crazy Eyes (Uzo Aduba) and Nicky (Natasha Lyonne) got last year, but when we finally learned her story this year it was worth the wait. Her fiancé Christopher? She stalked him. A lot. They went on one date and that was it, but Morello wanted him, wanted love, wanted the life he represented. She made threats on his and his girlfriend's life and broke our heart in the process. Yes, she's a little nutty, but you couldn't help feel bad for her. When she ditched the hospital parking lot while Rosa was getting her chemotherapy and broke into Christopher's house. She took a bath in his tub (while wearing his fiance's veil) and the whole time we were shouting at her to get out of there. Morello's story was Orange Is the New Black at its best.
2. Lolly asking for Piper's help: In the very first episode we met Lolly, an inmate also being transported to Chicago alongside Piper. They befriended each other on the plane over Vaseline in the ear and apple slices. It was short and beautiful friendship that ended when Piper's penguin lady friends (yep) didn't like the sound of Lolly's voice and a prison yard fight ensued with Lolly calling for Piper to help her and Piper standing there paralyzed with fear. To make it even more heartbreaking, Lori Petty whom you may remember as Kit in A League of Their Own, played Lolly. Way to go, Piper.
3. Crazy Eyes' whole arc: Vee (Lorraine Toussaint) really freaking sucks, right? As villain of this season, she manipulated her way to the top and wrecked everything that stood in her way. She drove a wedge between Poussey and Taystee, almost killed Red and perhaps the most unforgiveable thing: gained the trust of Crazy Eyes and set her up to take the fall for Red's attack. Crazy Eyes' flashback—the casting of her as a child was spot on—shed new light on the fan-favorite character and made Vee's manipulation all the more upsetting. Here's the prison system failing yet again.
4. Jimmy: One of the Golden Girls, Jimmy (Patricia Squire) was pretty much completely lost to dementia or Alzheimer's. She had a few one-liners—who doesn't like to see an old lady say inappropriate things—as she constantly looked for Jack. After wandering out of the prison and to a bar, the guards were on her tail for the rest of her stay in Litchfield. She found a friend in Piper, Roberta to Jimmy, but it was short-lived. After she tried to go swimming in the chapel, Jimmy was given compassionate release aka she needed long-term care and the prison didn't want to foot the bill so out on the street she went. It won't be easy to forget her being dragged into the van shouting Roberta as Piper and other inmates looked on in horror. Her treatment even sparked Sister Ingalls' (Beth Fowler) hunger strike.
5. Poussey's story: We don't know what got her into prison, but we did get to see some motivations behind her dislike of Vee and love for Taystee (Danielle Brooks). She was a military brat who had her first love ripped away from her after the girl's German father had Poussey's (Samira Wiley) dad transferred yet again. She almost killed him, but her dad stepped in just in the nick of time. Season two really humanized Poussey and despite the tears, we're happy that happened.
6. Vee getting hit by a van: Just kidding. Rosa (Barbara Rosenblat) hitting Vee as she escaped because Vee was always so rude was probably one of the most triumphant parts of the season. Good riddance.
Orange Is the New Black season two is now streaming on Netflix.