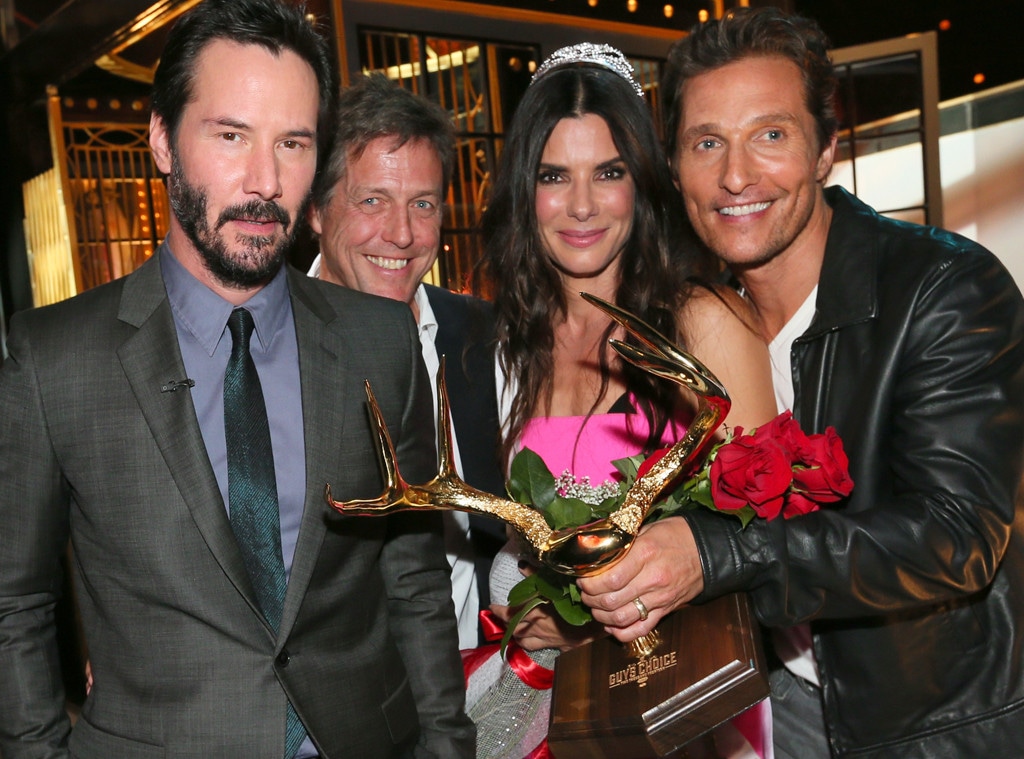 Mark Davis/WireImage for Spike TV
Sandra Bullock, you are one hot mama.
The brunette babe was honored with the Decade of Hotness awards last night at Spike TV's Guys Choice Awards in Los Angeles, and she received a little help from a few of her famous guy pals.
Hugh Grant kicked off the Sandy-gushing fest by talking about how she went from "sneaky hot" to just "hot." Keanu Reeves then took the stage to praise his Speed co-star, and couldn't stop raving about Bullock (no, really, Grant made fun of the length of his speech afterward).
Matthew McConaughey also stepped out and noted that he always found Sandra's collarbone sexy, and rubbed it in everyone's faces that he's been able to both successfully and unsuccessfully try to kiss her.
And then it was time for the woman herself to get on stage. After receiving her antler horn trophy, a sash (which she decided to wear over her vibrant pink dress as opposed to stripping down naked like Hugh suggested) and crown, Bullock began her acceptance speech—which was, of course, filled with jokes.
"I feel like I'm at my funeral. Decade of Hotness…My question was what decade? I have several under my belt. It should really be Decade of Hot Mess. That I can own and I do that well and I'm still convinced I'm up here because someone dropped out and they needed someone quickly and we know I'm home on Saturdays," she quipped.
"I'd like to thank the Guys Choice Awards for this—the horns. How many people hold this up and say, 'I'm so horny!' I'd like to thank you for this honor. This is an amazing slingshot for a 49-year-old. I'd like to thank every hairstylist and makeup artist for creating the illusion because I didn't look like this a couple hours ago…I'm just one of the luckiest girls I know and three of the people I'm just so crazy about are right next to me."
McConaughey also walked away a winner tonight.
The Hollywood stud, who was accompanied by his wife Camila Alves, was given the Guy of the Year Award earlier in the night, and made sure to include his famous catch phrase in his speech.
"Thank you. Well, all right, all right, all right. I dug all those roles I thought they were great guys, great Americans," McConaughey said of all his characters.
"While I'm here I wanna give a shout-out as a guy to all the women in our lives. The women who challenge us…talking about our wives, talking about our sisters, talking about our mothers and even our daughters. Thank y'all for letting us show off for you. We do our best.
"I also wanna give a shout out to us, the guys. There is a fraternity of men. A fellowship of men. I mean it's not easy out there every day. We need to watch each other's back and look out for each other. So let's be the best brothers we can be. Let's be the best friends we can be. Let's be the best fathers we can be. Let's be the best sons we can be. Let's be the best husbands we can be."
The 2014 Guys' Choice Awards will premiere on Spike TV on Wednesday, June 11, at 9 p.m.