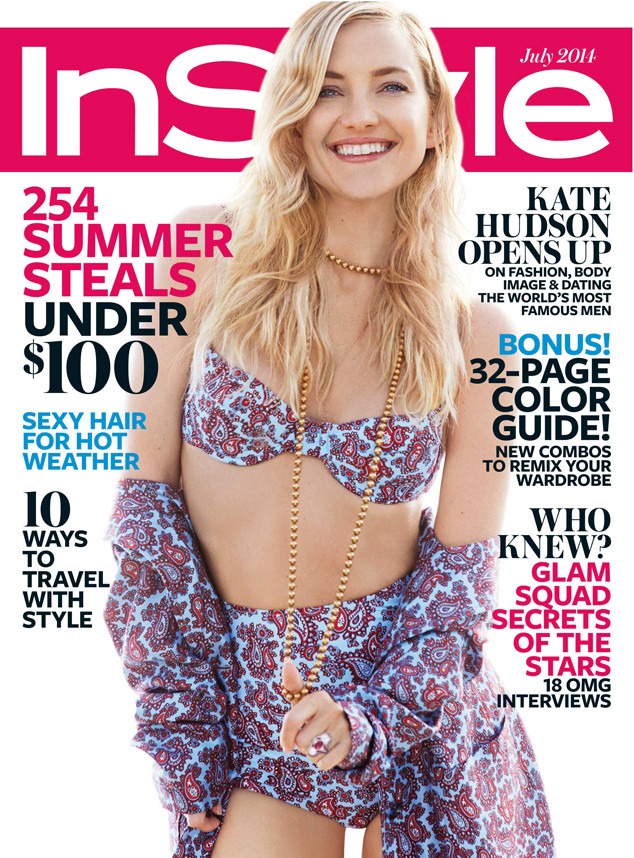 InStyle Magazine
Kate Hudson is back flaunting her fab abs—this time for the July 2014 issue of InStyle magazine. In addition to the printed Michael Kors bikini with matching silk jacket that she rocks on the cover, the actress also models a Salvatore Ferragamo python bra top and a Chloé bikini top. Suffice to say her famous figure is on full display. 
So what workout routine is keeping the mom-of-two in such crazy-good shape? Dance. "When I'm up there, twirling around, doing my pirouettes I look totally crazy," she shared. Somehow we doubt that. We've seen her moves on Glee after all.
Justin Steffman / Splash News
Even without the added endorphins, the 35-year-old is known for her super sunny disposition. But Hollywood's golden girl still has her pet peeves. Top of the list? The shutterbugs. "I just look at the paparazzi and mentally cut their heads off," she says. Bloggers are a close second on her least-liked lineup. "The negativity is just so vast. Will everybody stop being so damned judgmental?"
What really sets the star off is the rampant plastic surgery speculation. "That's like asking someone if they see a therapist—and why?" she says, adding: "If someone wants to go get butt implants, then sure, go get butt implants. The real question is, How do they treat the person next to them? Are they a--holes or are they awesome?"
It's not that star didn't know what she'd be getting into media-wise when she signed up for Hollywood. In fact, the blond beauty posed with her mother for her first InStyle cover when she was just 17. "I joined the circus because I wanted to be part of the circus. I have a rebelliousness in me. I'm not interested in perfection—that's the whole point!"