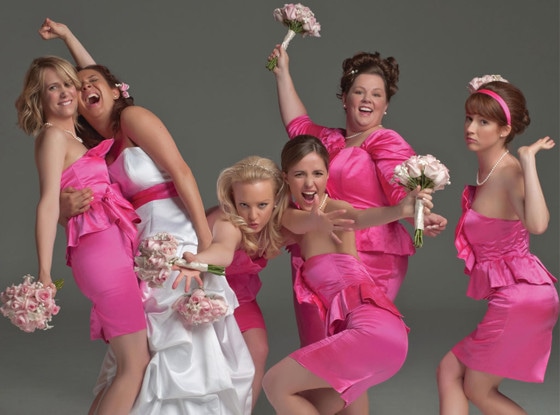 Universal Pictures
Sometimes a movie comes along that has so many scenes, situations and quotes that are so relatable to your own life that it's almost creepy. Bridesmaids is one of those movies. It will also become one of those movies that you absolutely have to stop what you are doing to watch when it airs on TV. And wouldn't you know it? It's coming to a small screen near you this Sunday on E!
Since the on-air premiere of Bridesmaids is right around the corner, we decided to a do a little experiment to celebrate. How many Bridesmaids moments can be applied to everyday situations? It turns out, basically all of them, but we rounded up our top 19:
1. After you take that first sip of a giant fountain drink from McDonald's:
2. When you think your friends won't notice that you didn't shave before wearing shorts:
3. When you read that Taye Diggs split from Idina Menzel:
4. When your latest jam comes on the radio and you don't care if people stare at you:
5. Walking into a party where all your friends are at:
6. Finally coming home after an exhausting day of running errands:
7. Any time you see Lauren Conrad's perfect Instagram account:
8. When someone tells you that they aren't a chocolate person:
9. How you answer when someone asks why you spend so much time watching Netflix:
10. Probably your biggest dating problem:
11. Talking to student loan collectors after college:
13. Finding out you might have to work this weekend:
14. When your friend tells you she doesn't feel attractive:
15. After Shonda Rhimes/George RR Martin/Joss Whedon kills off yet another character you love:
16. Trying to delicately explain to a friend what happened after you left the bar with a hot guy:
17. When you remember it's Friday:
18. Telling your friends you locked eyes with an attractive stranger at the grocery store:
19. Being awkwardly awesome with your best friends:
Don't forget to check out the on-air premiere of Bridesmaids this Sunday (June 8) at 6 p.m. only on E!