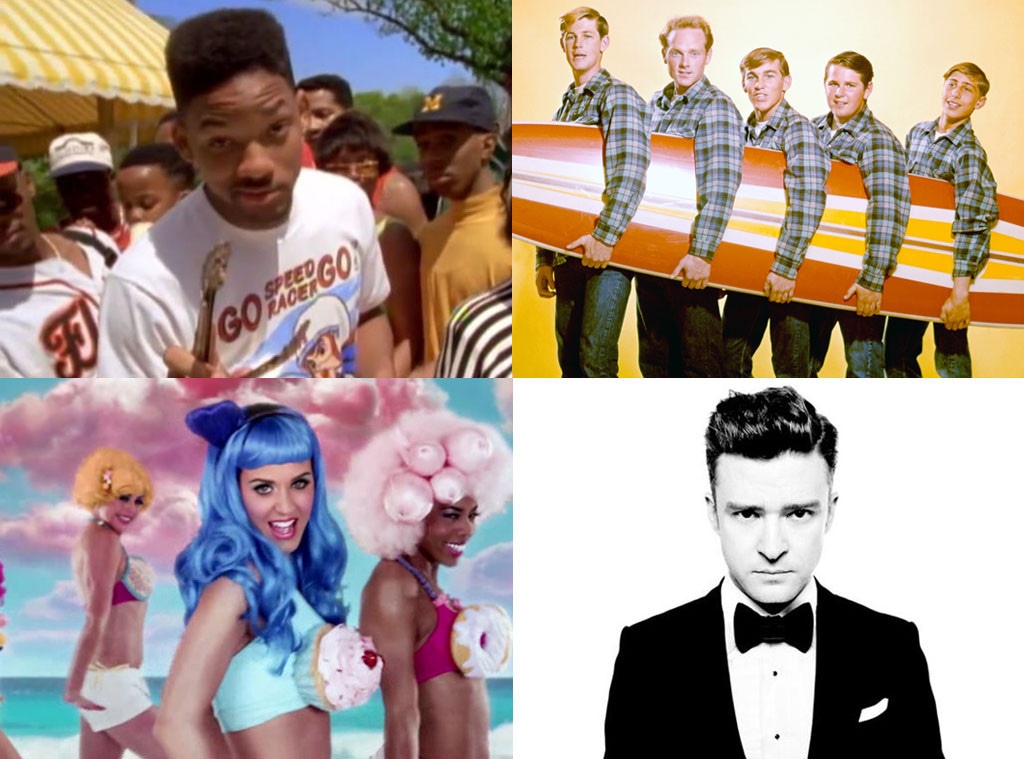 Getty Images
The first official day of summer is June 21, but c'mon. It's June. School is out. The weather is warm and those who battled the polar vortex can finally drive around with their windows down. It's summer now. Don't argue with us.
Obviously, summer doesn't count unless you have a soundtrack. Sorry, that's the way it goes. And now artists are doing battle each year to have the "song of the summer." Well, Araian Grande and Iggy Azalea can worry about that, because you'll be too busy jamming out to a collection of songs that make up the most perfect summer playlist. What perfect summer playlist, you ask? Only this one we've made for you! 
It doesn't matter what month of the year these 44 songs were released; they will forever be the ultimate summer songs:
1. Will Smith & DJ Jazzy Jeff, "Summertime"
2. Beach Boys, "California Girls"
3. Taylor Swift, "You Belong with Me"
4. Seals & Crofts, "Summer Breeze"
5. Carly Rae Jepsen, "Call Me Maybe"
6. Montell Jordan, "This Is How We Do It"
7. Jennifer Lopez, "Baby I Love U (Remix)"
8. The Drifters, "Under the Boardwalk"
9. Brad Paisley, "Beat This Summer"
10. Bananarama, "Cruel Summer"
11. Best Coast, "The Only Place"
12. Otis Redding, "Sittin' on the Dock of the Bay"
13. Beyoncé, "Crazy in Love"
14. Len, "Steal My Sunshine"
15. Alice Cooper, "School's Out for Summer"
16. Snoop Dogg, "Gin & Juice" 
17. Robin Thicke, "Blurred Lines"
18. Bryan Adams,  "Summer of '69"
19. Fat Joe Featuring Ashanti, "What's Luv?"
20. Nick Gilder, "Hot Child in the City"
21. Whitney Houston, "Dance With Somebody"
22. Katy Perry Featuring Snoop Dogg, "California Gurls"
23. Martha and the Vandellas, "Dancing in the Street"
24. Keith Urban, "Who Wouldn't Wanna Be Me"
25. Modest Mouse, "Float On"
26. Don McLean, "American Pie"
27. Lana Del Rey, "Summertime Sadness"
28. Rob Base & DJ E-Z Rock, "It Takes Two"
29. John Travolta & Olivia Newton-John, "Summer Nights"
31. O.A.R.,"Love and Memories"
32. Chicago, "Saturday in the Park"
33. 'N Sync, "Tearin' Up My Heart"
34. Florida Georgia Line Featuring Luke Bryan, "This Is How We Roll"
35. Justin Timberlake, "LoveStoned"
36. Sly and the Family Stone, "Hot Fun in the Summertime"
37. Miley Cyrus, "Party in the USA"
38. Marky Mark and The Funky Bunch, "Good Vibrations"
39. Janet Jackson, "Escapade"
40. Smash Mouth, "All Star"
41. Tupac Shakur, "California Love"
42. Sisqó, "The Thong Song"
43. Mariah Carey, "Always Be My Baby"
44. The Jackson 5, "I Want You Back"
OK, what summer jams did we miss? Add yours to the comments and let's keep this summertime feeling rollin'....