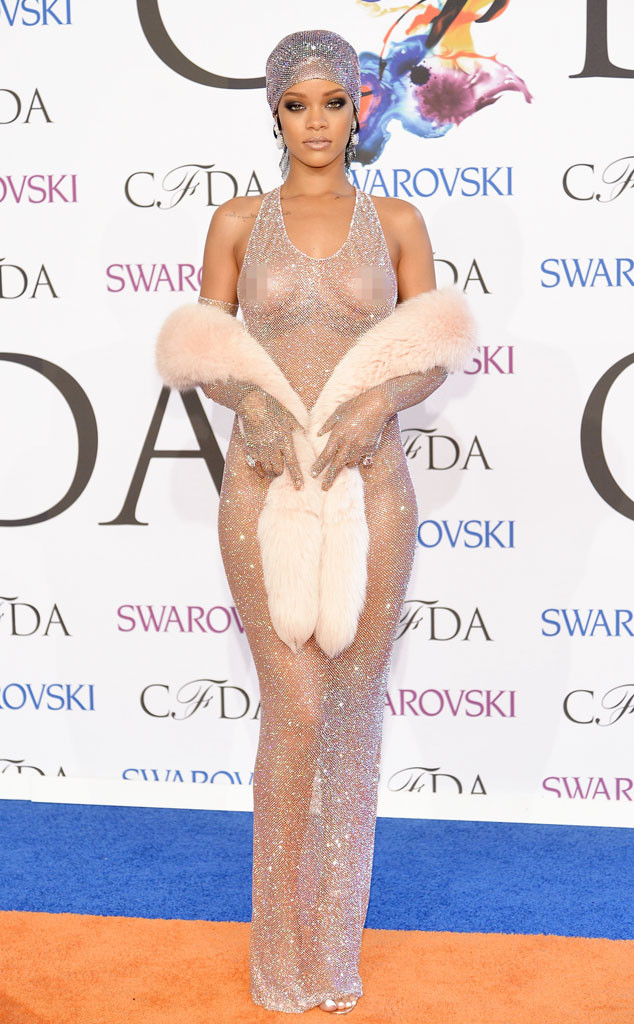 Dimitrios Kambouris/Getty Images
Talk about too hot for Instagram!
Rihannas glittering outfit she wore to the 2014 CFDA Awards definitely would not pass the Instagram rules of what constitutes "acceptable content." Not by a long shot.
When it comes to working sheer ensembles on the red carpet, this ain't Rihanna's first rodeo. The 26-year-old singer has bared it all before, but Monday night she brought it big time.
The beauty stepped out in a glittering, completely sheer fishnet slip dress that exposed her nipples and her nude G-string underwear—which was the only thing keeping Rihanna from wearing nothing but her birthday suit. She accessorized with matching sheer elbow-length gloves, limited edition cats eye moonstone and diamond earrings and an imperial topaz and diamond ring by American jewelry designer Paul Morelli.
Really the only thing covered up about Rihanna's look was her hair—which she wore wrapped up in a metallic scarf.