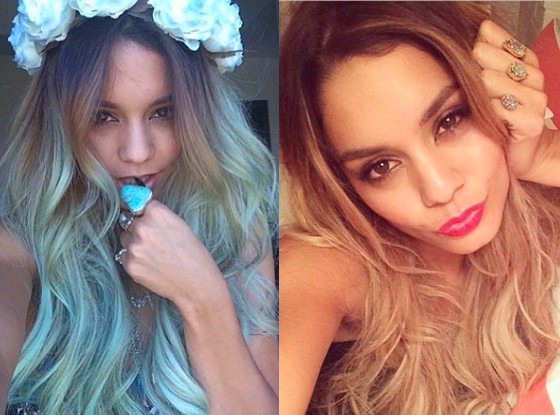 Instagram
While Kaley Cuoco-Sweetings's pixie cut wins most surprising mane makeover from over the weekend, there were two hair color changes that also deserve our attention.
Starting with Vanessa Hudgens. In a selfie posted to her Instagram on Saturday, the Gimme Shelter actress flaunted blue-green tresses. She captioned the photo: "She would be half a planet away, floating in a turquoise sea, dancing by moonlight to flamenco guitar. –Janet Fitch, White Oleander."
It is unclear if the former Disney star's new ombré teal effect is dye or simply another hair chalk experiment. Last month, she debuted a similar tint on social media, writing: "Well hello hair chalk, You're fun." She also toyed with a hot pink shade but ultimately decided: "Me likey diis greeeeen." So perhaps she decided to make it a semi-permanent deal.
Imeh Akpanudosen/Jeffrey Mayer/WireImage
Also opting for an ombré look—but a little more traditional—was Shay Mitchell. The Pretty Little Liars' star returned to her blond dipped-ends at the show's 100 episode party in Hollywood on Sunday. Mitchell has been going back and forth with her golden highlights recently and apparently she decided to bring it back for another go this summer.
What do you think of Vanessa and Shay's looks? Should they keep the new hues?