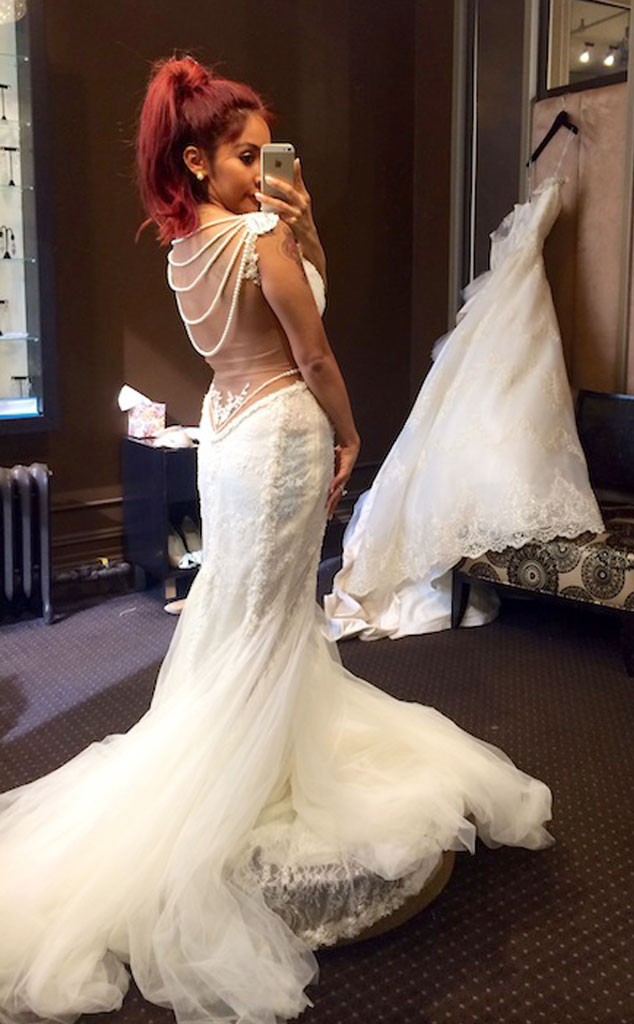 snookinicole.celebuzz.com
Snooki's big day is approaching!
The MTV reality star shopped for a wedding gown and shared a picture from the dressing room via her official website Thursday. "This is NOT dress, but something like it," she wrote. "How gorgeous is this dress? I loved it, but needed more of an UMPH. I'm too short for an elegant mermaid dress, but I loved how vintage and classy this was. Can't wait for the big day to show you all the dress I did pick out!"
Snooki got engaged to Jionni LaValle when she was pregnant in 2012. The couple welcomed son Lorenzo that summer, and now the Snooki & JWOWW star is expecting a baby girl, due later this year.
The former Jersey Shore star, 26, is planning a Great Gatsby­-themed wedding.
"I picked out my bridesmaid dresses last week and I cannot wait!" the former Dancing With the Stars contestant blogged March 26. "They are beyond gorgeous and going to look fabulous on everyone! My bridesmaids all have different body types, so I wanted to make sure the dress that I picked would look good on everyone. My next step is to ask my girls, and then figure out their jewelry and hair!"