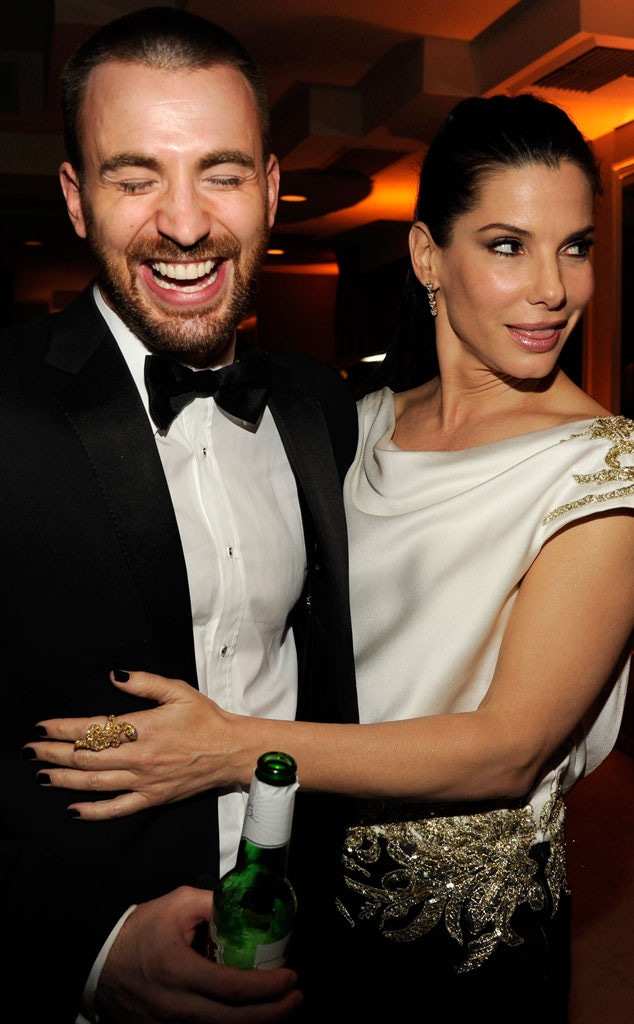 Kevin Mazur/VF12/WireImage
Chris Evans' dream could be a reality!
While he is not dating his childhood crush Sandra Bullock per se, a source close to the actor tells E! News that the two share a mutual attraction and are in the early stages of getting to know each other.
"They are not in a relationship, but they are definitely hanging out and are in the early getting-to-know-each-other phase," the source reveals. "They haven't put a title on it, but they really like each other."
Romance rumors ramped up in early May after they they shared a meal with pal Chelsea Handler at Cecconi's in West Hollywood. The month prior, Evans and Bullock dined at West Hollywood hot spot Craig's with Handler and Melissa McCarthy.
The Captain America actor, 32, met the Gravity actress, 49, at February 2012's Vanity Fair Oscar party. "I used to be in love with Sandra Bullock when I was growing up. Sandy B. was my girl," Evans told Playboy three months later. "I remember seeing Speed when I was in seventh grade and just thinking, 'That's her.'"
That same year, Evans told Details that he had a "big poster" of Bullock during his formative years.
At the time of those interviews, Evans was single. He later rekindled the flame with Minka Kelly, whom he first dated in 2007. Bullock, meanwhile, has been single since her 2010 divorce from Jesse James.
What does Evans look for in a partner? "I like women who get emotional about babies and puppies. I've met some incredibly cool women who are tough, but the woman you marry should have a really soft side," he told Women's Health in 2012. The Snowpiercer star added that he despises "arrogance and false modesty" in relationships. "Nothing is worse than a beautiful girl fishing for compliments by saying how gross she is," Evans said. "On the flip side, I find genuine humility and modesty attractive."
Fortunately, Bullock seems to have the traits Evans desires in spades. "I like girls who are self-deprecating. I like girls who make fun of themselves. If you can't poke fun at yourself, what are you? I just want someone with a good soul. That's about it," he told Playboy.
"The rest I'm really flexible on."
—Reporting by Baker Machado