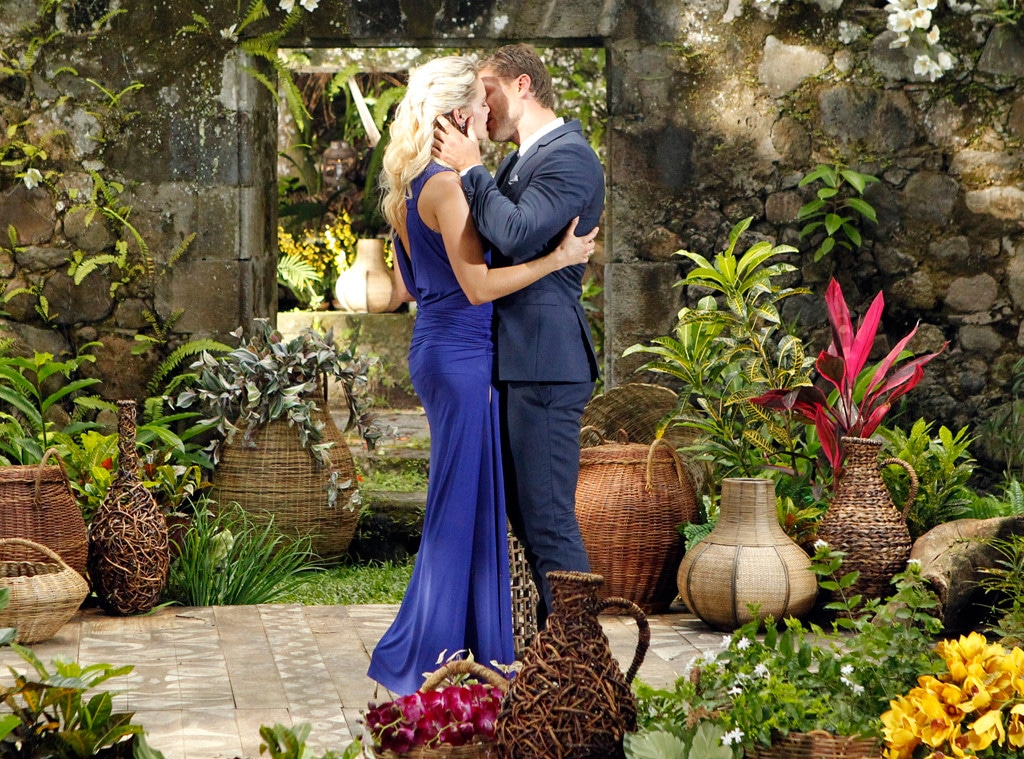 ABC/Rick Rowell
Apparently, it is not OK. And by it, we mean Juan Pablo Galavis and Nikki Ferrell's relationship!
The Bachelor couple is set to join the cast of VH1's Couples Therapy when it returns for its fifth season on Wednesday, Sept. 10, E! News has learned. The pair, who will seek counseling from Dr. Jenn Berman and her staff, have already begun filming as production kicked off two days ago. 
While VH1 isn't commenting on Juan Pablo and Nikki's involvement, they announced season five's cast would have a mystery pair joining the confirmed couples, including Jenna Jameson and John Wood, Big Brother's Dick "Evil Dick" Donato and Stephanie Rogness-Fischer, Naughty by Nature's Anthony "Treach" Criss and Cicely Evans, and Jersey Shore's Deena Cortese and Chris Buckner.
So why weren't Juan Pablo and Nikki included in the announcement? A source tells E! News, "It's true, they're doing it. The reason it wasn't put in the press release is due to Juan Pablo's deal with ABC. It's not up until August, so, contractually, it can't be mentioned until then."
This isn't the first time Juan Pablo and Nikki have turned to reality television for relationship advice: The couple was spotted with Marriage Boot Camp stars Jim and Elizabeth Carroll, who've worked with fellow Bachelor alums Trista and Ryan Sutter, back in March.
After Juan Pablo chose Nikki as the winner during his time on the ABC reality hit, he soon faced backlash over his decision to not propose and the fact that he had yet to drop the "L-word." While the two are currently trying to make things work long-distance, he's in Miami and she's in Kansas City, a source recently told us, "Juan Pablo is very happy with Nikki" and that the couple was even "talking about their future."
Juan Pabs and Nikki aren't the first Bachelor couple to appear on Couples Therapy: Vienna Girardi, the "winner" of Season 14 with Jake Pavelka, and Kasey Kahl, a season six Bachelorette contestant, sat on the couch to hash out their relationship issues in season one. They later split, so fingers crossed Juan Pablo and Nikki's time on the show works out better!
And as luck would have it, we happened to get some advice for them from one of Couples Therapy's most infamous stars, Teen Mom's Farrah Abraham, who infamously participated in season four by herself. So what does she think Juan Pablo and Nikki need to do to make their relationship work? 
"For starters, maybe Nikki and Juan Pablo want to move closer to each other," Abrams offered. "And if they are having fidelity issues, they need to fix it and change things, or else he can go back to being a bachelor."
As for Couples Therapy, she advised the duo to "be open to growth and try not to hold yourself back. It's really about pushing yourself and growing. I would definitely let Dr. Jenn work her magic!"
Reality Steve first reported the news of the Juan Pablo and Nikki joining the series. 
Couples Therapy's fifth season premieres Wednesday, Sept. 10, on VH1.