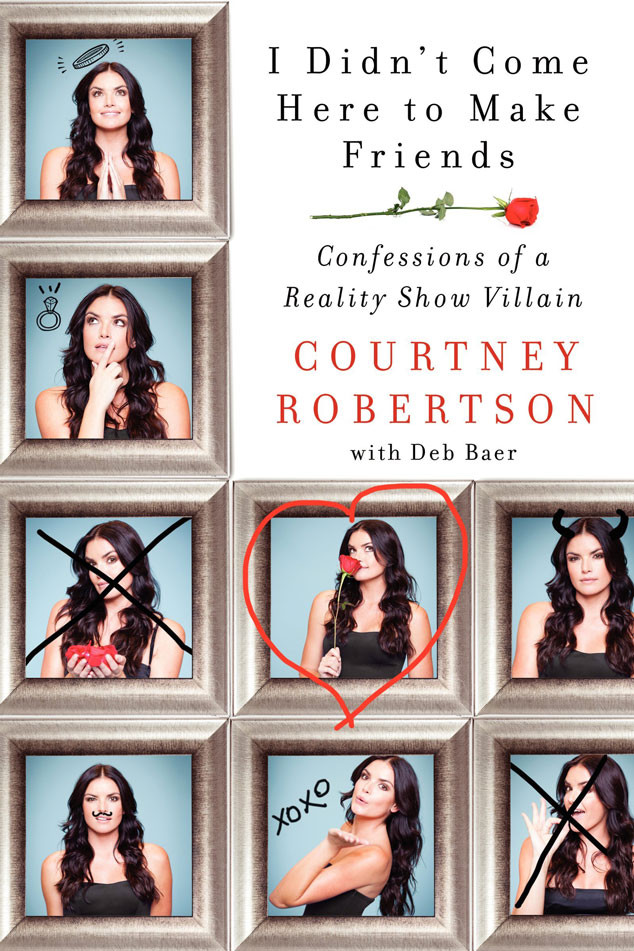 It Books
One of the most controversial stars of the Bachelor franchise, Courtney Robertson is spilling sizable secrets in her new exposé, I Didn't Come Here to Make Friends: Confessions of a Reality Show Villain!
Outside of the juicy tidbits and insider information she's gleaned from being a part of Bachelor Nation, the TV personality also dishes on the trysts she had as a working model cavorting around Hollywood before her reality TV fame (or infamy).
The former Bachelor contestant's salacious saga features a hard-partying Jesse Metcalfe, a ready-for-a-family Mr. Reese Witherspoon, a member of a male model that was "the size of a baby carrot stick" and an Entourage leading man who speaks softly and carries a big stick.
Let's get between the covers—of the book, of course—and uncover more details of this tantalizing read!
1. Self-Love: Much of the book is about on-screen love and off-screen sex, and the model-turned-reality TV villain credits her sexual awakening—and subsequent frenzied masturbation—to '90s hit TV dramas.
The "sexually repressed" 15-year-old became aroused by love scenes she used to tape for future viewing, confessing "when half-naked people hooked up on Baywatch I'd get super horny, but it was a particularly steamy make out session between Joshua Jackson and Michelle Williams on Dawson's Creek one summer evening that sent me over the edge…I put my hand down south and went to town."
And she didn't let up, adding more TMI, "emboldened by my erotic discovery, I masturbated every night for the next—well forever…I was paddling the pink canoe so much my hand was getting cramped."
Courtesy of Michael Kovac/WireImage.com
2. Hard to Get: In the chapter entitled "Catwalking & Starf**king" Robertson remembers her days and nights frolicking around Hollywood with hot actors like Adrian Grenier.
According to the book, they met at an A-List mansion party; she writes that they bonded over a "mutual loneliness in LA," yet she didn't feel a spark. She did, however, feel a fondness for hooking up with him and claimed/bragged/overshared, "He had the biggest penis I'd ever seen—and the biggest bush!" 
The TV personality claims they never had "actual sex" in the six years the Entourage star (Vincent Chase)d her and he is still in hot pursuit, booty-call texting her to this day. According to the book, the last time her wrote her, he asked, "Are you still on that show?"
Courtesy of Alison Buck/WireImage
3. Drunk in Love: Robertson claims she can "count on three hands" the number of men she's slept with and Jesse Metcalfe is one of them. She ran into the Desperate Housewives star at the aforementioned celebrity bash and found him much more appealing than Grenier so they began dating although "Jesse was by his own admission, an alcoholic and an addict...he would disappear for days at a time." 
The Dallas actor wined and dined her and she was his date to the Emmys, but their romantic life was so-so.
"I wish I could say that we were the greatest lovers since Christian Grey and Ana Steele. But I can't lie. The sex was pretty average. Jesse needed a lot of reassurance."
Despite the mediocre lovemaking their on-and-off fling lasted six years with the final split occurring when Metcalfe entered rehab.
Rommel Demano/Getty Images
4. Older Man. Not Ready Yet Woman: A good friend tried to pair the brunette beauty up with a top agent at CAA, but she wasn't interested. "Jim Toth was thirty-eight, about thirteen years older than me, and ready for marriage and babies, the whole nine yards," and while she enjoyed dating him briefly she admitted, "it was clear to me that we were in different places in our lives and he was too old for me."
Later after their non-affair ended, she learned he'd become "Mr. Reese Witherspoon."
5. Sweet, but Sad Simpson: Not all of the Bachelor star's memoir is post-coital scoop. While posing for an ad for Jessica Simpson's hair extensions line, the working model met the "With You" singer soon after her split with Nick Lachey. And according to Robertson, the not-so-bubbly blonde wasn't handling the breakup very well.
"She spent most of her days holed up in her candle-lit dressing room, drinking carrot juice, and blasting Sinead O'Connor's "Nothing Compares 2 U."
I Didn't Come Here to Make Friends, published by Harper Collins, is available Tuesday, June 24.