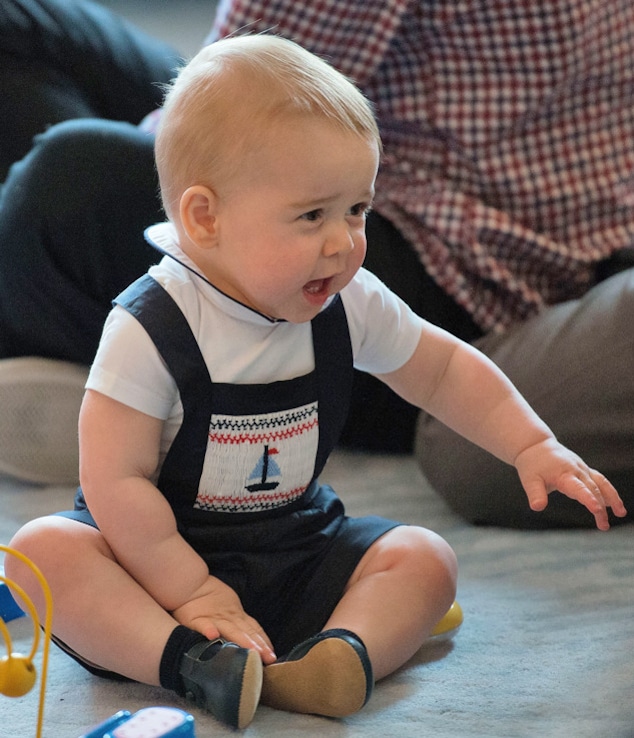 Getty Images
Who's the most stylish baby of them all? Prince George, of course!
Sorry, Blue Ivy and North West. No hard feelings! It's tough to beat out a royal. In a poll conducted by British baby website My1stYears.com, Prince George beat out the stiff competition for the most fashionable child, stealing 23% of the vote.
Blue Ivy came in second place with North West not far behind, coming in third. English singer Alesha Dixon's daughter Azura Dixon came in fourth, and Harper Beckham rounded out the top five.
Marvin and Rochelle Humes' daughter Alaia-Mai came in sixth, then Kate Winslet's son Bear Blaze in seventh, and Prince George's cousin, Mia Tindall (daughter of rugby player Mike Tindall and Zara Phillips) placed eighth.
Rounding out the list were Eric Cowell in ninth, and Klay Rooney (son of British television personality Coleen Rooney) in tenth.
So congrats to Prince George! He's proving to be quite the fashion trailblazer, starting trends like sailboat rompers and kangaroo backpacks. We were so inspired, we even chose him as our first honorary muse as a part of our Monday's Muse series!
Chris Jackson/Getty Images
And while it's fun to size up the most stylish celeb kiddos out there, keep in mind these are babies, people. They don't know whether they're dressed in a sailboat romper or a burlap sack—they just care about sleeping, eating and playing. Keeping up with the trends probably isn't top on their baby to-do list.
So we have to give a hand to the chic celebrity mom and dads who are the ones who are actually dressing these fashionable babies.
What do you think: Who is your favorite stylish celeb tot?