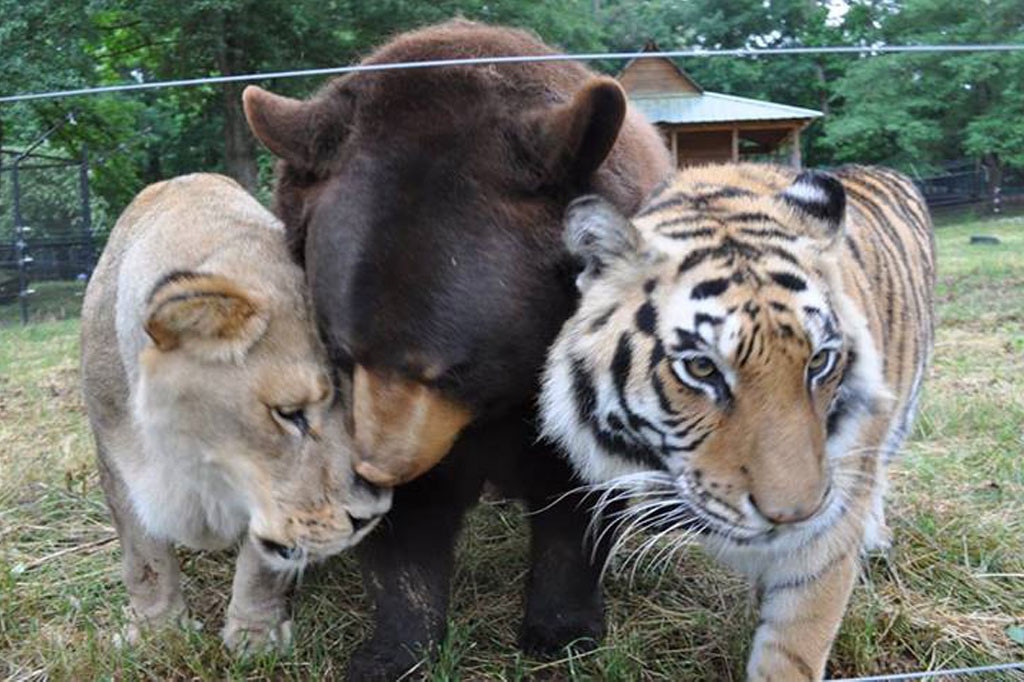 Facebook
Dorothy and Co. may have been afraid of lions, tigers and bears (oh my!) in The Wizard of Oz, but after seeing these adorable pictures of a lion, tiger and bear frolicking and being best buds together, you'll want to frolic with them, too.
But don't. They are still large animals with sharp teeth and big claws and they could be dangerous. You'd never guess it from the pics, though, because look how cute!
It's basically a Disney movie come to life at the non-profit Noah's Ark sanctuary in Georgia, where Baloo the brown bear, Leo the lion and Shere Khan the tiger reside together.
The trio, known as BLT, was rescued when they were just cubs during a drug raid in Atlanta. Yes, a drug dealer had been keeping them in his home as a "status symbol." Disgusting.
All three were in poor condition when they were found, but they have recovered and thrived under the care of Noah's Ark. And they are still best friends. Even though they live on a habitat consisting of three acres, they don't like to separate themselves and prefer to stick together.
"They actually seek out each others affections. They nuzzle each other. They play together," Noah's Ark animal husbandry manager Allison Hedgecoth told Today. "It's really amazing that the BLT all interact like they do. As far as we know, this is the only BLT in the world." 
Besides just being insanely adorable together, Baloo, Leo and Shere Khan serve as a lesson to the world about friendship and loving unconditionally, despite coming from different backgrounds.
"They teach you how to get along," Jama Hedgecoth, Noah's Ark founder, said. "They're definitely not the same color. They're not the same species. They're not even from the same country, and they love each other. They're brothers, and they teach you how to love."
You can see more pics of the BLT (and plenty other amazing animals) and learn more about Noah's Ark at their Facebook page.