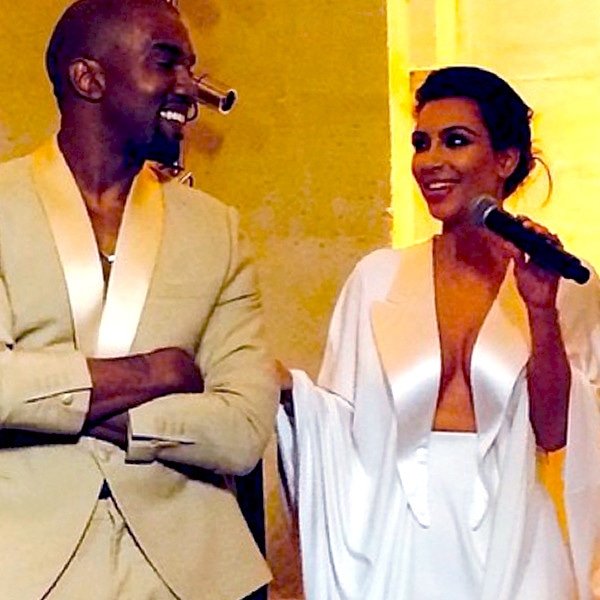 Instagram
You know when you go to a wedding and the speeches seem to go on forever and ever and ever? Well, celebs really are just like us because Kanye West reportedly gave a 20-minute long speech after marrying Kim Kardashian on Saturday. 
According to our source, the speech was very Kanye-esque, meaning it was as sweet as it was "huh?"
At one point, Kanye called the Kardashian family an "industry" and "the most remarkable people of our time" who can "make the world a better place."
He also reportedly went on a rant worthy of a Harrison Ford movie that includes the hijacking of Air Force One. 'Ye went on and on about the culture of being in the limelight and that all the spoofing and tabloid covers don't get him or the Kardashian family down. 
"I am defined by being a celebrity…the world is our altar," he announced to a cheering room. "We are not stupid!" 
Our insider said that Kim's new husband got very heated during certain parts of his speech, but he also had very sweet things to say about his new bride. He called her the "ideal celebrity" and the "ideal art," and he gushed about spending "every day of my life with Kim."
Kris and Bruce Jenner also gave speeches at the reception, though they probably weren't as long or as intense. Bruce reportedly took the more emotional route and he even shed some tears while talking about the newlyweds. Friends like John Legend also toasted the happy couple.
The over-the-top reception followed a ceremony fit for celebrity royalty at the historic Forte di Belvedere in Florence. Kim wore a lace Givenchy Haute Couture gown and a long silk veil, while Kanye was fitted in a custom Givenchy tuxedo.
Kim and Kanye used traditional vows during the ceremony and their good friend, a pastor from Miami, officiated the union. 
No word yet if Kanye is looking into a fallback career as a wedding emcee. We'd hire him.