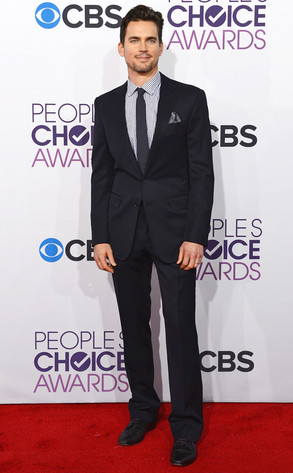 Jason Merritt/Getty Images
Matt Bomer transformed himself for HBO's The Normal Heart, losing upwards of 35 pounds to play a closeted New York Times reporter who contracted AIDS in the early '80s. His appearance in the film is haunting, and the 36-year-old actor made sure his three sons knew their dad was healthy in real life.
"We definitely prepared our kids really early on, before I even started losing weight," says Bomer, who married power publicist Simon Halls several years ago. "I spoke with a professional who told me how to relay it to them in language they could really understand, and they were great about it. Maybe it's a luxury of having all boys, who are like 'Yeah! Go!' You know, it's like they were my cheering squad. And I remember, at one point I had lost 25 or 30 pounds and I came home, and it's such a testament to childhood imagination, because they were like, 'Oh, I thought you were going to be skinnier than that.' And I was like, 'Hey, I'm working here!' But they were really great about it, and understanding. I think that our oldest son, who tends to be a caretaker, said at one point, 'When are you going to get to eat pancakes with me again?' But that was about as difficult as it seemed to get for them."