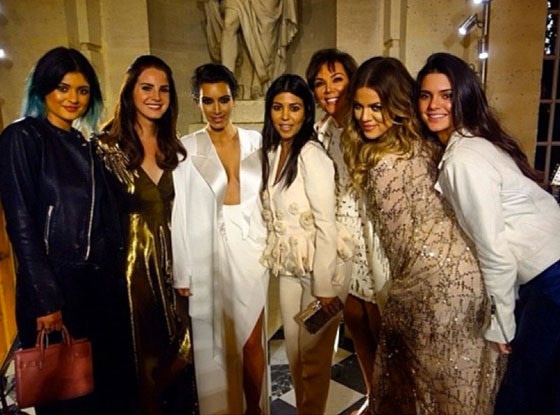 Instagram
Kim Kardashian and Kanye West's festivities leading up to their big nuptials continue to be straight out of a fairy tale.
The soon-to-be newlyweds were joined by their nearest and dearest tonight for a special pre-wedding celebration at the Palace of Versailles, and it just so happened that Yeezy had another little surprise for his blushing bride-to-be.
E! News has exclusively learned that the rapper surprised his ladylove by having Lana Del Rey perform three songs for the pair, including her hit "Summertime Sadness."
"Kim and Kanye love her and were so happy she could sing for them," an insider tells E! News.
According to a second source, guests were pulled up to Versailles by horses. A full orchestra entertained the crowd as guides dressed in 18th century costumes took all the guests on tours and horse and carriage rides. "Everyone was crying! So beautiful," source tells E! News.
The weather was sunny for a bit and the star-studded group enjoyed the beautiful sunset prior to Lana's surprise performance. Unfortunately, the weather went downhill and it started to rain, but that didn't stop everyone from partying at all! Source tells us fireworks went off and the duo's family and friends began dancing under the rain to Kanye's "N---as in Paris."
A separate source tells E! News that guests nibbled on hors d'ouevres including lobster sticks, caviar and crepes. There was no formal sit-down dinner or toasts.
Guests included Valentino, Alexander Wang, Andre Leon Tally, Oliver Rousteing, Joel Silver, Steve McQueen, David Blaine, NeNe Leakes, Serena Williams, Big Sean, Tyga and all of Kimye's best friends and family.
"Epic night in Paris," source tells E! News. "Everyone was crying because they have never experienced such a party!"
The 33-year-old E! reality star was dressed in a cleavage-baring white gown while her soon-to-be hubby was seen in a tan-colored suit.
Planning for the pre-wedding celebration began early on Friday afternoon, with countless staff setting up the ornate floral arrangements and other decorations.
An eyewitness tells us that lanterns were set up on the black and white marble courtyard outside of the palace's entrance as well as a giant arch that was erected in the main garden.