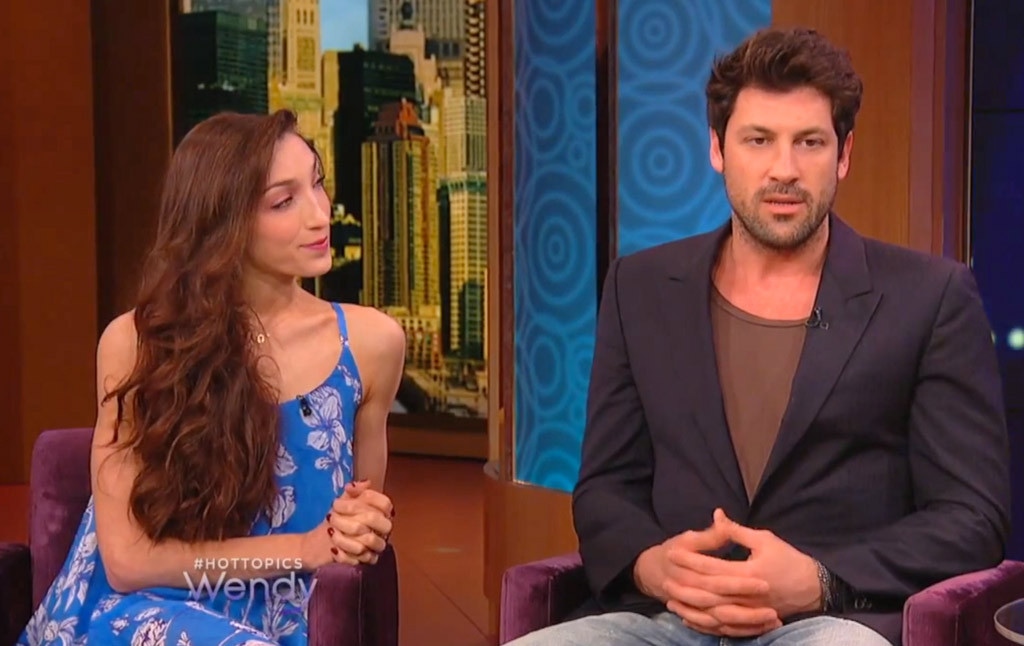 Wendy
Meryl Davis and Maksim Chmerkovskiy couldn't dance around the question this time.
While it's lots of fun to speculate about whether or not the cozy partnership between Olympic gold medalist Meryl Davis and ballroom pro Maksim Chmerkovskiy developed into something more over the course of the season—and even more fun to watch those two play coy—the subject got real when they sat down for an interview on The Wendy Williams Show.
Asked point blank if the two were sleeping together (well, actually Wendy first asked if they were "smushing," and both claimed ignorance of what that term meant), Meryl responded at first with a wide-eyed "wow!"
So that got their attention.
"Are y'all boyfriend and girlfriend, or lovers or anything?" Wendy pressed, thoroughly covering all the bases.
"We're not dating, no," Meryl replied. (Hmm, that answer was kind of paraphrasing the question, but we'll take her word for it.)
 Asked if she had a boyfriend, the ever-poised ice dancer said demurely, "We like to keep the personal lives personal."
Cathy Gibson, PacificCoastNews
There you have it, straight from Meryl.
Wendy noted the palpable chemistry between them on the show, and Maks said, "We needed that. I didn't need to be naked most of the time on TV" to get votes this season, which marks his first victory in 14 tries.
As for next season, Maks revealed that he would accept a spot at the judges' table should this past season turn out to have really been head judge Len Goodman's last.
"I'm not a nice judge, I'm a good judge," the 34-year-old pro insisted, when Wendy puzzled over how nice he seemed when he appeared as a guest judge last season. "I'm the judge the way it's supposed to be. I know this business...I grew up in it. Somebody asked me yesterday why I started dancing.
"I was 4 years old, who knows what? Spending 30 years in an industry—I think I've done a little bit in it, I know what I'm talking about...unlike some of the guest judges we've had this season."
Maksim memorably dissed guest judge Abby Lee Miller of Dance Moms earlier this season, telling DWTS cohost Erin Andrews that he didn't at all care about what she had to say.
Wouldn't it be something to see them judge side by side next year?