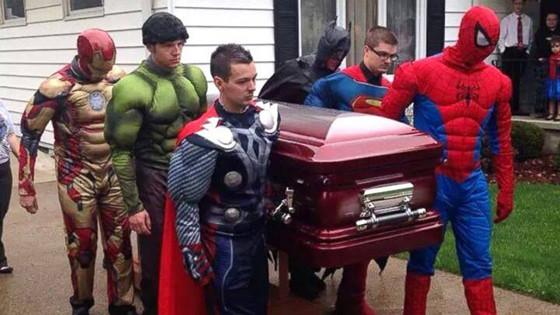 facebook.com/BraydensBenefitPage
Earlier this month, The Avengers—and some of their superfriends—assembled again, not to fight some extraterrestrial supervillain, but to pay tribute to a 5-year-old superfan who lost his battle with brain cancer.
Brayden Denton of Newton County, Ind. was diagnosed with a rare form of cancer called DIPG (diffuse intrinsic pontine glioma) in April last year, and passed away on May 8, just a year later.
"He could care less about people being in a suits, ties and dresses," his mom, Staci, told New York Daily News. "He was a 5-year-old boy. That's not what he thought was neat. He loved looking at superhero T-shirts."
facebook.com/BraydensBenefitPage
So Staci wore a Spider-Man T-shirt to the service, while Brayden's family members who acted as pallbearers dressed as Thor, The Hulk, Iron Man, Batman, Superman, and Brayden's favorite, Spidey.
"He was a huge Spider-Man fan, and he had to quit just liking Spider-Man because he had all the toys," Staci recalled in an interview with Local 10. "Really, he liked all the superheroes."
She continued, "The whole time I saw them carrying Brayden, he was probably up there going, 'This is so cool.' That was his world. That's what he would have wanted." 
A Facebook page, Braydens Benefit Page, has been set up "to spread awareness of the horrible villain called DIGP," while Staci is working with Indiana senators to have September honored as National Childhood Cancer Awareness Month.