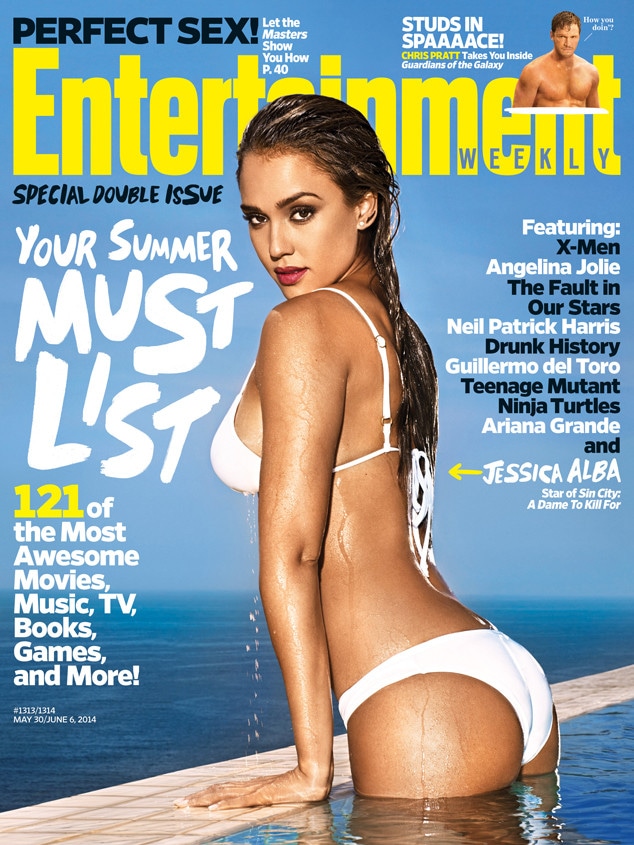 Entertainment Weekly
Just who is Jessica Alba?
The actress describes herself as a "prude," yet she convincingly strikes a seductive and confident pose—while wearing a white bikini, no less!—for Entertainment Weekly's May 30/June 6 cover. Alba has long been considered a sex symbol, even if she didn't always agree with that label. In fact, during her early days in show business, the star got flustered if reporters mentioned her alluring appearance.
"I didn't have a lot of experience, so at first it was all kinds of weird," says Alba, who hit it big as the star of Fox's Dark Angel before transitioning to movies. "I'm kind of a prude, and I didn't really understand. They would always ask me provocative questions about my sexuality, my this or that."
Alba did what any actress would do in such a situation—she played a character. "Sometimes I would lie and say something that wasn't true to make myself seem more interesting that I was," she admits. "I mean, I didn't even know how to walk in heels until I went to the Golden Globes for the first time."
Though the married mother of two re-branded herself over the years via The Honest Company, she'll reprise her role as a stripper named Nancy Callahan in this summer's Sin City: A Dame to Kill For. "She was more naive in the first film. Ignorance was bliss," Alba says of the sultry character, who was introduced onscreen in the 2005 neo-noir crime thriller. "In this one there's no bliss and no ignorance. I wanted her to transition from being a victim to being someone who's in control of her own story."
Today, the 33-year-old movie star feels more confident in her career than ever before. "I was such a deer in the headlights when I did the first one," Alba says of starring in Sin City. "I was so green and just trying to take it all in. I have a fearlessness now that I didn't before."