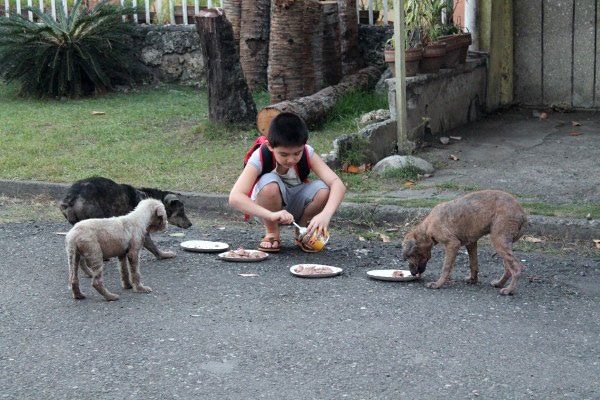 Courtesy: happyanimalsclub.org
This is Ken, a 9-year-old boy from the Philippines. Earlier this year, his dad wondered what he was getting up to all day and found out that Ken was feeding neighborhood dogs. "My son kept coming across these dogs while taking his own dog for a walk," Ken's dad wrote at the time. 
"My son says at first the dogs would only eat the food he left for them when he was 50 feet away," he continued. "Gradually they got used to him. But even now, only the white puppy will come within petting distance."
Courtesy: happyanimalsclub.org
Ken's dad posted pictures online, they went viral, and people began sending donations.
"Some very kind people who saw these pictures donated money to help me care for the dogs," Ken explains. "We got enough money to get the dogs I was feeding off the street, feed them high quality canned food, and provide them with veterinary care. They gained a LOT of weight, their open wounds healed, and their fur grew back."
Courtesy: happyanimalsclub.org
What a difference Ken's love and some charitable strangers made in these dogs' lives. Look at the transformation these dogs—the same dogs, named Brownie (the brown one), Blackie (the black one), and White Puppy (the white puppy)—made in just a few months.
Most importantly, "They also learned not to be scared of humans," Ken says.
Courtesy: happyanimalsclub.org
Now, they're also the first residents of a non-profit, no-kill animal shelter that Ken started. With all the money he raised, Ken was able to lease 10,000 square feet of land and start the Happy Animals Club.
"My dad told me it would take a lot of money and 20 years for me to get an animal shelter. He said only grown ups can raise enough money to start an animal shelter," Ken says on his site. 
His goal? "I want to save as many [dogs] as I can from being killed for no reason."
Courtesy: happyanimalsclub.org
Ken's dad tells Buzzfeed, "We still lack a mayor's permit, and the lot lacks water and power—that's basically more paperwork. There are some other issues that need to get resolved as well. And of course Ken needs to build some structures. He also said he wants to run an advert in the local newspaper to ask for volunteers."
Which requires money. Plus, he'll need to buy more food when more dogs arrive.
You can donate to Ken's dream, and the Happy Animals Club, via their website.