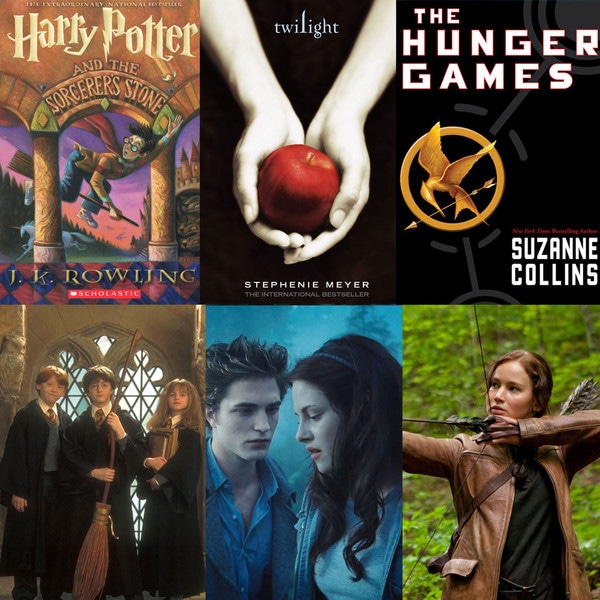 Following the success of young adult books turned movies like the Harry Potter, Hunger Games and Twilight series, the literary genre is becoming increasingly popular, with film studios paying close attention and optioning novels with promising premises.
Although the books are generally geared towards ages 12-18, Publishers Weekly revealed that 55 percent of young-adult fiction is purchased by readers over 18. Meaning, the young adult reading audience has grown past young adults.
"We know now that people who are reading Hunger Games and Twilight and Divergent can be 55 or 38 or men and women, so it has become a category that is no longer limited to its age group, which is sort of fascinating," Feiwel and Friends publisher Jean Feiwel told us. "And I think it's because these people kind of grew up on Harry Potter, or Goosebumps, that makes them inclined to like the book as a series that has ongoing characters, so they come back to a category that they love and know." Feiwel and Friends's optioned book titles include Monument 14: Savage Drift, The Girl Who Could Fly, and The Lunar Chronicles.
Meanwhile, Penguin Young Readers Group President Don Weisberg told us"I think Young Adult literature taps into the universally shared experience of adolescence. It is a pivotal time that everyone can relate to." Penguin has the titles Legend, If I Stay, The Fault in Our Stars, among others, which have all been optioned and/or already made into movies. 
As for the keys to a successful young adult book turned film, Feiwel said, strong premise, strong characters and the incorporation of a love story can strengthen a YA books' ability to sell.
"Regardless of if the outside trappings are paranormal or dystopic, I would say it's the romance," she continued. "That is really the core of a lot of what has driven the teen series. It makes for good movies and people will always have a strong interest in that."
When moving from book to film, Feiwel and Weisberg both said there is generally a collaborative process between authors and film studios to maintain the integrity of the book that has been optioned.
With Twilight wrapped up and Hunger Games done with its second film, what will be the next big thing in young adult books? Authors like John Green (Fault in Our Stars), Gayle Forman (If I Stay) are ones to watch, according to Weisberg, considering their books have already been turned into films—The Fault in Our Stars opens in theaters this weekend, while If I Stay arrives in August. Meanwhile, Feiwel touts Monument 14 author Emmy Laiborne as a young adult author on the rise, considering her book has already been optioned as well.
Not every young adult book that makes it to the big screen does well, though.
I Am Number Four, for example, cost $60 million to make, but it brought in $22.6 million it its opening weekend behind two other major films. Although it was based on a best-selling series of young adult books, the series was optioned and the movie making process began before the first book was ever released. That gave it a much smaller presell market than Twilight or Harry Potter, leading to smaller numbers at the box office.
Meanwhile, Beautiful Creatures pulled in $7.5 million in its first weekend. According to experts, the book's fans didn't show up for the movie because of how different the big-screen adaptation was from the original text. "When you don't satiate your core audience, you're in hot water when it comes to the box office," Exhibitor Relations box office analyst Jeff Bock said of the book-turned-film's box office fizzle in 2013. Also, the film was pushed as a Twilight knockoff, which rattled Twi-hards, instead of getting them excited to see the film.
City of Bones, The Host and Percy Jackson also weren't a hit, bringing in lower numbers than expected.
According to Vulture, most failed movie adaptations were drawn from YA franchises whose fanbases were comprised of young adults...and not much else. The successful ones, however, reached beyond that age group. "That's the recipe for enormous success," Ben Schrank, president and publisher of Razorbill told the site. "When you see adults on their commutes reading the hardcovers of these books with their jackets removed, it means the movie has a far better chance of working."
Take a peek at the young adult books that have already been optioned for upcoming films!
Heist Society, Ally Carter: Elizabeth Banks' production company, Brownstown productions, picked up the rights to this book last year after Drew Barrymore and Warner Bros.' rights expired. The book is a New York Times best seller and tells the story of a teenage thief who gets into trouble after her 16-year-old billionaire friend arranges for her expulsion.
Shatter Me, Tahereh Mafi: This novel centers on the story of a girl who can kill anyone with a touch. Fox optioned the rights and started adapting the book in 2011.
A Tiger's Curse, Colleen Houck: A 17-year-old falls in love with a shape shifting tiger she meets at a circus. Paramount optioned the rights to the book.
Trylle Trilogy, Amanda Hocking: This paranormal romance follows a girl who learns she's a troll princess and tries to save her endangered kingdom. Media Capital Rights optioned the book.
Artemis Fowl, Eoin Colfer: This popular series tells the story of a 12-year-old millionaire and criminal mastermind. Disney and Weinstein Co. optioned the book in July 2013. No release date has been announced yet. As of last year, the book had sold 20 million copies worldwide.
Legend Trilogy, Marie Lu: Set in the Los Angeles of the future, the series begins with a boy who is the Republic's most wanted criminal and a girl who is the Republic's most loved prodigy, whose paths cross when her brother is murdered. The girl is hired to hunt down the boy responsible, but they end up discovering a shocking truth instead.
Monument 14, Emmy Laybourne: Strange Weather Films optioned the rights to the book, which centers on 14 kids from Monument, Colo., trapped in a superstore while civilization collapses outside the gates.
Lunar Chronicles, Marissa Meyer: This fairytale series with a twist comprises four books—Cinder, Scarlet, Cress and Winter (2015 release), which sets the tales of Cinderella, Little Red Riding Hood, Rapunzel and Snow White in a futuristic world. Details about which studio optioned the series have not been undisclosed.
The Night Circus, Erin Morgenstern: This story centers on two magicians, who have been trained since childhood to battle it out—with only one of them surviving, unbeknownst to them. Summit Entertainment optioned the rights in 2011.
Which book-to-movie adaptations are you looking forward to? Sound off in the comments!