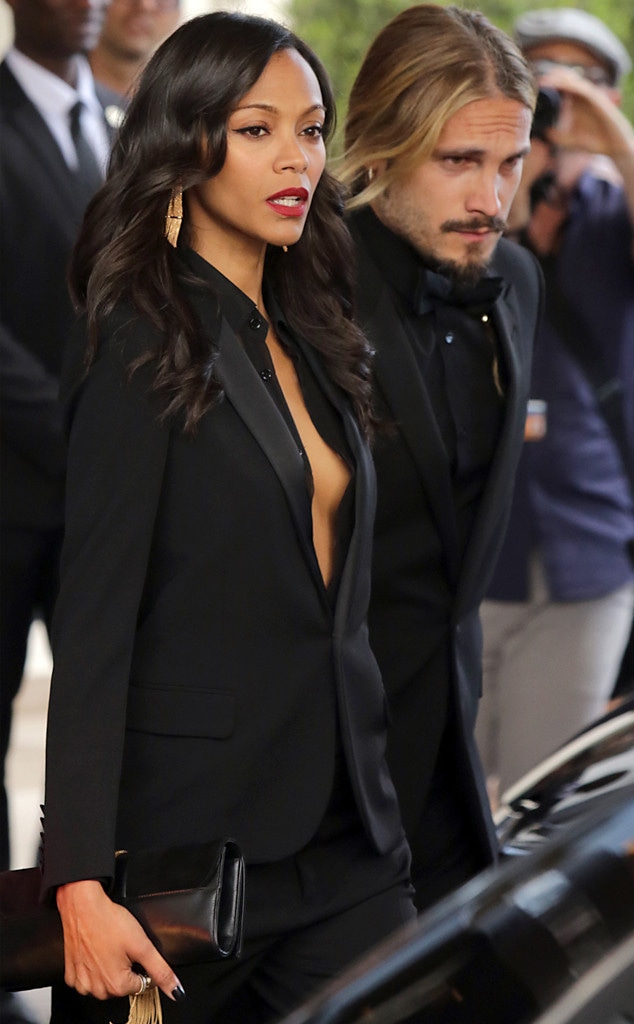 Splash News
Zoe Saldana and her artist hubby Marco Perego can't be any cuter (and hotter!) together.
"He's wonderful," Saldana beamed to me earlier today about her husband of 11 months at Relativity's 10th anniversary party with Variety at the legendary Hotel du Cap.
Especially when they dress alike. In the last four days, Saldana said she wore about nine different looks, but one really stood out.
"You are always doing press and I had my L'Oreal obligations," the Avatar star said. "I had maybe two red carpet events but yesterday, I got to wear my favorite, which is a Saint Laurent suit. My husband and I were both dressed in Saint Laurent."
Michael Buckner/Getty Images for Variety
The chic ensembles were matching black tuxedos that they wore to the premiere of The Prophet. And ith the top of her shirt opened, Saldana flashed some serious skin.
Saldana also, of course, looked fab at the Relativity bash in a black, white and yellow Etro cocktail dress.
"I sent all my stuff back and I thought, maybe I'll just hold on this thing for the little lunch that Relativity is having and then I get here and I'm like, 'Are you kidding me? There's a step and repeat and everything?'" she said with a laugh. "I love it."
Looking out to the blue Mediteranian Sea, Saldana quipped, "This could be Brooklyn."
Also at the party was Saldana's ex-boyfriend Bradley Cooper's girlfriend Suki Waterhouse (we didn't spot the two ladies interacting), Adrien Brody, Adrian Grenier, Sons of Anarchy's Ron Perlman, Paz Vega and Relativity founder and CEO Ryan Kavanaugh.