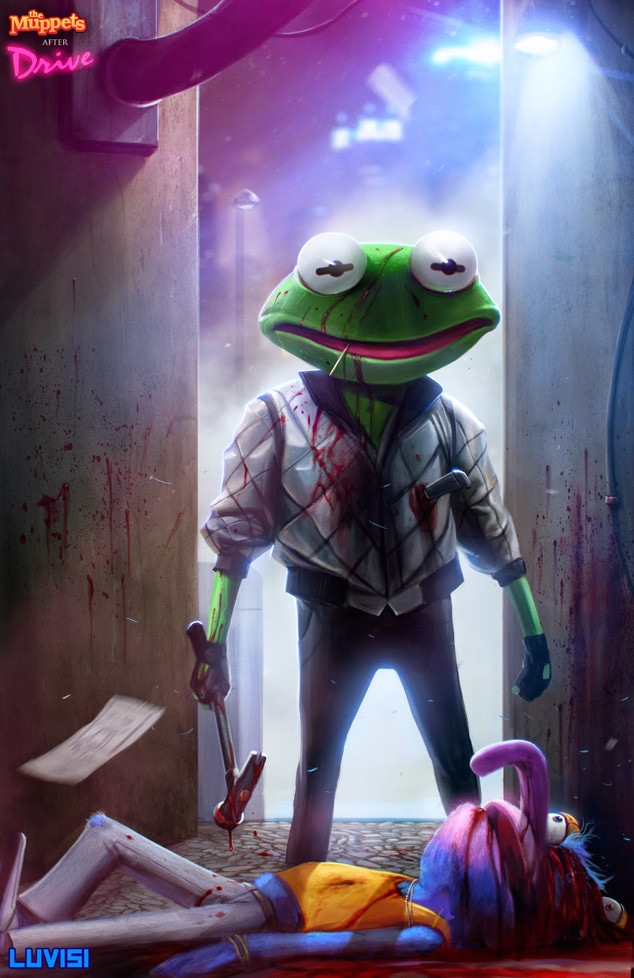 Courtesy: Dan Luvisi Art
Ryan Gosling replaced by Kermit the Frog in Drive? Why not!
Artist Dan Luvisi has pretty much scarred us for life with his "Popped Culture" series of drawings featuring beloved childhood (and adulthood) figures such as Kermit, Fozzie Bear, Mike from Monsters, Inc., Homer Simpson and others and turned them into violent criminals and sociopaths in colorful tableaus that we both want to never look at again and yet also buy immediately and hang them on our wall.
And give them as presents to the weird people we love.
Even Luvisi, who's getting a Kickstarter together this summer for a Popped Culture book, admits that his work is twisted.
"Now, I know, the characters I am painting are gross, scary and dark. But I am not a crazy person," he wrote recently on his blog. "I have two lovely cats (okay, may be semi-crazy), and I like to think I'm an okay guy."
Well, he's a talented guy, we know that. Luvisi created a back story for why Kermit, for instance, just beat Gonzo to death with a hammer. Apparently he's an actual actor who, down on his luck, has been coerced into going "down a more adult road."
So the Muppets aren't actual killers, they're just actors doing the dirty stuff that humans are usually left to do. Wicked.
Here's a bloodied Homer Simpson as a victim of Grand Theft Otto, also featuring the stoner school bus driver from The Simpsons, reimagined as a menacing motorist with "GTO" tattooed on his knuckles and a cigarette hanging out of his mouth.
Lenny and Carl are two of Krusty's Kocaine Cowboys who tend to be given more responsibility from the boss than the henchman who brought 'em into the racket, Homer Simpson. And for good reason.
Cookie Monster's addiction caused him some issues in the tooth-retention department, and now he's turned to slinging other substances on "The Street." And someone apparently has it out for Elmo, too.
And now we can call Burt and Ernie partners in crime and mean it literally.
Have a nice weekend. Don't show the kids.