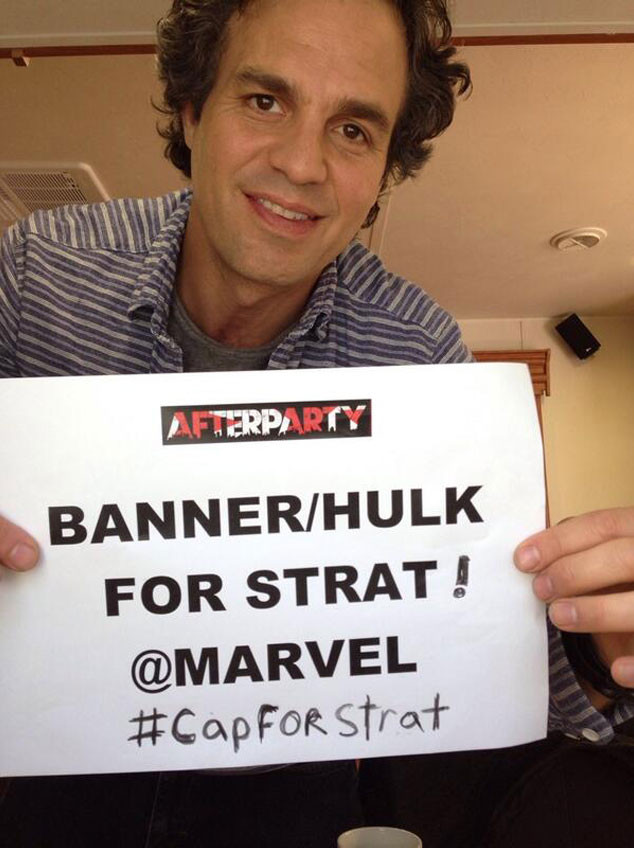 Twitter
Never underestimate the power of social media.
Stratford Caldecott, 60, is a huge comic book fan and loves Marvel movies. Unfortunately, due to his advanced prostate cancer, he was too ill to see Captain America: The Winter Soldier in theaters. His daughter Sofie Caldecott started an online campaign to get him a DVD before it's released in August.
Thanks to her efforts, people began posting pictures of themselves appealing to the cast of The Avengers and Marvel's Agents of S.H.I.E.L.D. by holding signs and using the hashtag #CapforStrat. Mark Ruffalo was the first star from the movie to participate. "Banner/Hulk for Strat! #CapForStrat," he tweeted Wednesday. The actor, 46, added the caption: "Hang tough Strat! We are pulling for you."
Samuel L. Jackson followed suit that day, tweeting, "Keep fighting and Stay Strong Strat! You can do it!"