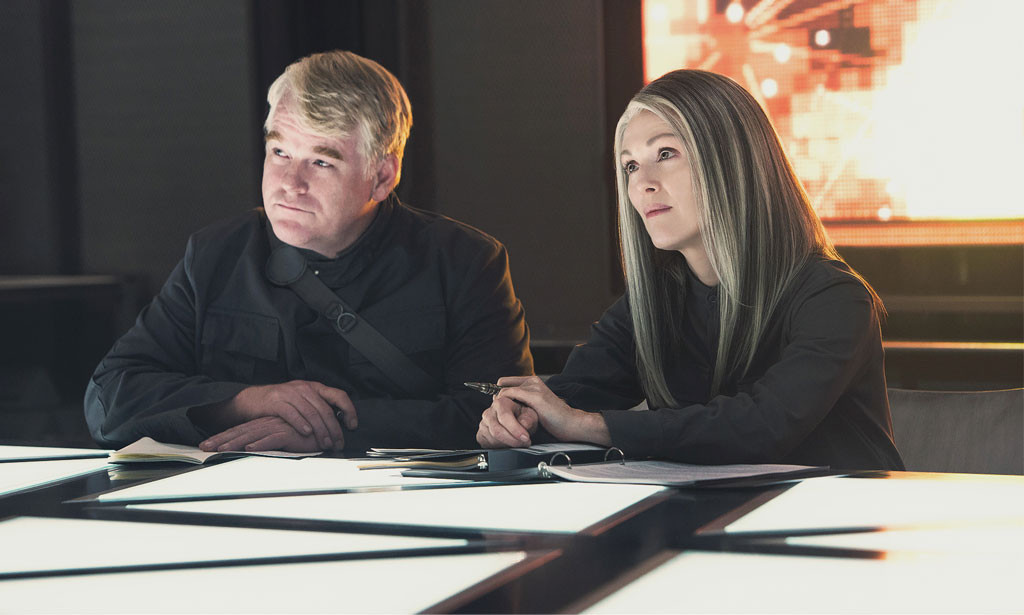 Lionsgate
We're finally getting a first look at The Hunger Games: Mockingjay Part 1!
Lionsgate studios released a bunch of new promo material today on their website that's sure to get fans excited for the upcoming flick. In addition to cast photos of Julianne Moore, Woody Harrelson and other castmembers (Sorry, no Jennifer Lawrence or Josh Hutcherson yet!), director Francis Lawrence and Mockingjay producer Nina Jacobson also opened up about finishing Philip Seymour Hoffman's scenes after he tragically died from a heroine overdose during filming.
"We finished the majority of his work [before he died]," Lawrence said in the new interview. "I think he might have had 8 to 10 days left on our schedule. In most of the scenes, Philip didn't have any dialogue. We are going to put him into those scenes, but we're only using real footage. We're not creating anything digital or a robotic version of him."
Jacobson added, "We had to rewrite the dialogue scenes that he had left and there's no question that shooting those scenes is painful without him. We might give a line of Plutarch's to Haymitch or Effie, but only in circumstances that we are able to do that without undermining the intent of the scene."
In addition to some newly released stills from the film (check out Jeffrey Wright and Mahershala Ali), Moore also recorded a video interview where she gushes about joining the Hunger Games franchise as the character Coin.
"I was very impressed with the books," she said, adding, "I've read all the books. I've read them all the way through, and I'm like, 'I want to be in this movie!' Clearly, that was the only part that I could play."
Check out Moore's interview for more Hunger Games scoop from her. And take a look at all the new Mockingjay stills, along with a moving Mockingjay poster!