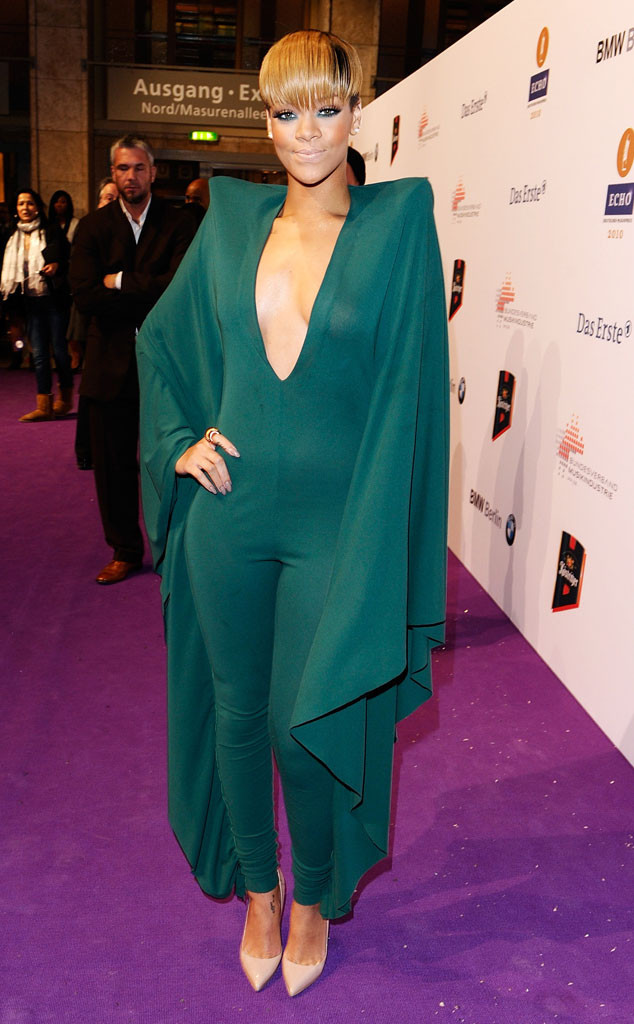 Toni Passig/WireImage
They say imitation is the sincerest form of flattery—but Rihanna is not flattered.
In fact, the singer mocked a 16-year-old fan who recently recreated one of her red carpet looks. Alexis Carter was inspired the Alexandre Vauthier jumpsuit Rihanna wore to the 2010 Echo Awards and decided to wear a similar ensemble to her Hollywood-themed prom. "I was like, 'Oh my God, I love this outfit. I wanna go with this outfit. Let me go show my mom!' And I was like, 'Mom, mom, mom, I wanna wear this, it's cool, I love it, oh my god,'" the student told her local Fox affiliate Wednesday.
A family friend created the ensemble, which featured a plunging neckline and "wing-like" attachments under the arms. "Everybody was saying, 'Oh my god, I love it. It looks nice. Your body looks good. It's different,'" Carter recalled. The next day, however, photos of her outfit began to circulate on social media. On Twitter, #PromBat trended, complete with altered photographs that mocked her jumpsuit.