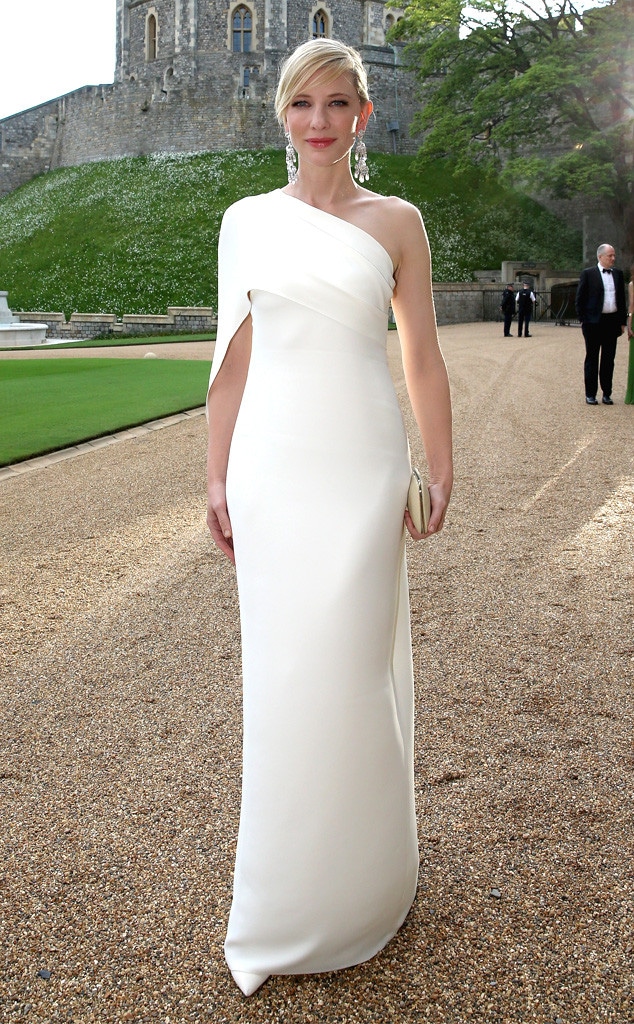 Chris Jackson/Getty Images
Prince William is rubbing elbows with the stars!
Cate Blanchett, Emma Watson, Benedict Cumberbatch and more of Hollywood's biggest stars stepped out tonight to attend the Duke of Cambridge's Royal Marsden Hospital charity dinner at Windsor Castle in Windsor, England.
Blanchett stunned in a white, one-shoulder gown with jeweled earrings and her hair up. As for Watson, the 24-year-old looked like the epitome of class and elegance in a crisp white shirt tucked into a floor-length gray skirt. Watson completed her look with a dark red lip.
Chris Jackson/Getty Images
Meanwhile, Cumberbatch looked dapper in a formal black suit and tie. Inside the bash, Cumberbatch and Will chatted for a long time and the Sherlock star admitted to feeling "guilty" about hogging the duke's attention. "He is just a stand-up guy," Cumberbatch said.
Cara Delevingne proved her model chops during the charity dinner in a gorgeous black halter dress that showed off her thin frame. Other stars who mixed and mingled with the prince during the event included Kate Moss, Margot Robbie, Ralph Lauren, Downton Abbey's Alan Leech and Douglas Booth.
Chris Jackson/Getty Images
But Helen Bonham Carter wins our award for best sound bite given to the press during the evening. "The Duke and I met before, along with the Duchess, before they were married, when I was staying on Mustique," she told the Daily Mail. "I got very drunk at one point and I was determined to ask him to be a godfather to my daughter. He quite wisely said no. I admire him. He has got the same grace as both his parents."
LOL!
Two royally famous stars who weren't in attendance? Will's wife, Kate Middleton, and their baby boy, Prince George. The mother-son duo stayed home while Will raised money for his favorite hospital, which he's the president of.
Chris Jackson/Getty Images