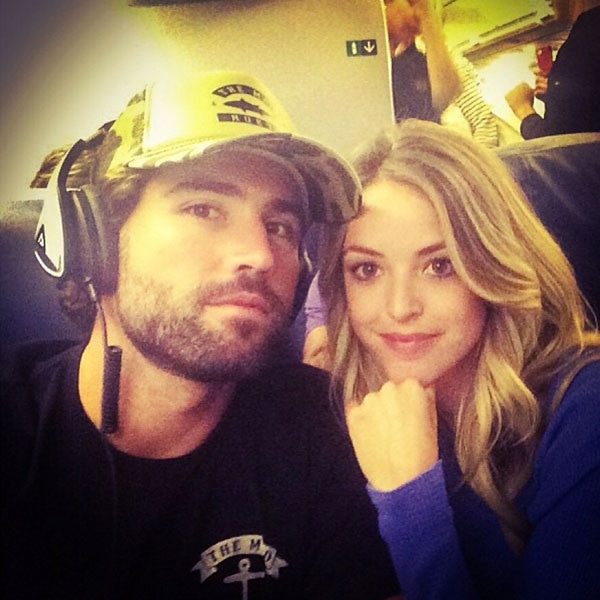 Instagram
Sorry, ladies. Brody Jenner (and his heart, perfect scruff and great smile) is taken.
The 30-year-old former reality star is dating model Kaitlyn Carter, whom he has introduced to all his fans via Instagram. While it's unclear how long these two have been an item, their social media posts suggests that they've been in a relationship for the past few months—and things are getting serious!
Brody shared a picture of the duo on a plane with the caption, "Headed out on the red eye to go meet the fam," which he later followed with a photo of Boston's sunrise.
Jenner also couldn't help but show off his lady's enviable body by posting a snapshot of Carter flaunting her booty in a itty-bitty bikini while washing his car and joked, "you missed a spot!!"
The pair also spent the weekend together celebrating friend and professional gambler "Vegas" Don Johnson's birthday. The Hills alum took over the DJ booth and headlined at FLUXX in San Diego on Friday night, bringing along the gambler Johnson, pro skateboarder Ryan Sheckler, as well as his new girlfriend.
"Happy birthday to the man, the myth, the legend Don Motha F--kin Johnson. Thanks for always being a good friend to me and the boys," Brody wrote on Instagram.
Kaitlyn's already met Brody's nearest and dearest. In April, the blond beauty posted a group photo of Jenner with his mom Linda Thompson, brother Brandon and his wife Leah, and his pals while deejaying at Hooray Henry's in Hollywood. Carter captioned the picture, "such a killer night last night with so many of my favorite people!"
Carter was previously linked to actor David Spade, while Jenner's dating history includes Avril Lavigne, Lauren Conrad, Kristin Cavallari and most recently Bryana Holly.
Don't forget to catch the premiere of Keeping Up With the Kardashians on June 8 at 9 p.m., only on E!