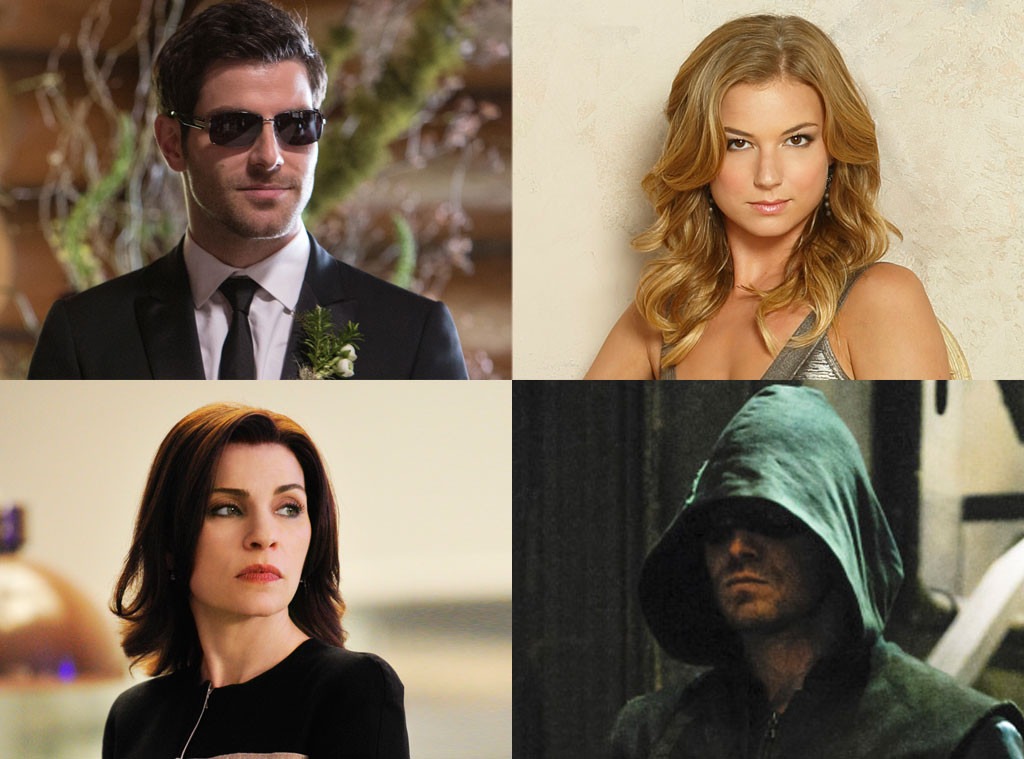 ABC; NBC; CBS; CW
It's the busiest week of the year...at least in the TV world!
We're midway through the 2014 Upfronts, when the five networks unleash their new schedules and series for the fall upon us...just as some of their hottest shows are airing their finales! And in today's Spoiler Chat, we've got scoop on the season enders of The Good Wife and Arrow, as well as what's ahead on The Originals after last night's insanely awesome finale. 
Plus, we've got scoop on Grimm, Reign and more, so without further ado, here's your daily dose of TV spoilers...
Sophie: Will we get any Alicia/Kalinda in The Good Wife finale? I miss Kalicia.
Sorry, no Kalicia in the finale, but we did take your please to The Good Wife co-creators Robertand Michelle King because we get this question a bit. "We do too and part of it is built into the concept of the series. We've had discussions with Jules and Jules thought we were pushing the Kalinda/Alicia friendship back too quickly," Robert told us. "When we looked at it again, we tended to agree. It's a relationship we want to keep alive, but in many ways like many things on the show, there's some things we kind of slow move and others we kind of fast move."
Carly: I saw Marc Guggenheim tease on Twitter that someone will say "I love you" in the Arrow finale. Any scoop on who says it?!
"I can'y say s--t about that!" Stephen Amell said when we asked if Oliver is the one dropping  those three little words. "I can't say anything about that line!" However, Amell teased, "Possibly the loudest reaction from viewers in the finale will take place in a moment of complete silence." Hm…
Meghan S.: I cannot get over Revenge's finale! David Clarke's return was insane! But will Emily's mother also return in season four?
Kara is still out there, so it's a definite possibility, showrunner Sunil Nayar hinted to us. "She's definitely come up in conversations. Season four is going to be much more about the nature of Emily's family as opposed to the Grayson family than it's ever been before," he spilled. "She's someone we're talking about, but we haven't figured out the stories yet, but we love her and we love the character. You never know, she could pop up."
Debra: The Originals finale was insanely good, maybe my favorite episode of the show so far! What's coming up in season two?
With a bunch of witches biting the dust in the finale (So long, Monique and Genevieve), fans will meet a new witch when the CW hit returns: Lenore, a salt-of-the-Earth witch, who will first appear in episode three and will prove to be quite the new foe for Klaus. (Oh, and check back with us later for scoop on what's ahead from boss Julie Plec!)
Jessie: Grimm is one of my favorite dramas. Whatcha got about the finale? How can you not love David Giuntoli?!
It's true, you can't not love David Giuntoli. We caught up with the star and pushed him for spoilers. He's well trained, guys. But we did get this! There will be quite a cliffhanger and a wedding. "Holy matrimony happens. And also, one of the main cast members—Will they die or will they not die?" he said, and then joked, "Someone's going to have trouble renegotiating."
Dani: Reign. Reign. Reign. Now. Now. Now.
OK. OK. OK. We can confirm that there is a major death in the finale. We can also confirm that we'll be sharing an exclusive sneak peek at Thursday's finale a little later today. 
Taylor: I am so happy my two favorite detectives, Lindsay and Benson, are both coming back now that Law & Order: SVU and Chicago P.D. have officially been renewed. What's up in the P.D. finale?
Um, lots. Jason Beghe told us "Sophia is spectacular" in the episode. And star Sophia Bush said it will not disappoint fans. "When you work on a show that is as intense as ours and the last script, when you pick it up and you get to the last page and you audible scream 'Holy sh--!' at home, you know something major is happening," she told us on the NBC Upfront red carpet. "It is a really beautiful episode...We learn a lot about why Voight and Lindsay have the relationship that they do. We learn some very hard to digest information about where Lindsay came from and so it was an exercise for me, certainly."
Deep breaths, guys.
Got a TV question? Tweet it to @kristindsantos—or send an Instagram video—with #AskKristin, and you may be part of the next Spoiler Chat or Watch With Kristin show!
SPOILER CHAT comes out every Monday and Wednesday at 9 a.m. ET/6 a.m. PT. Bookmark the link!