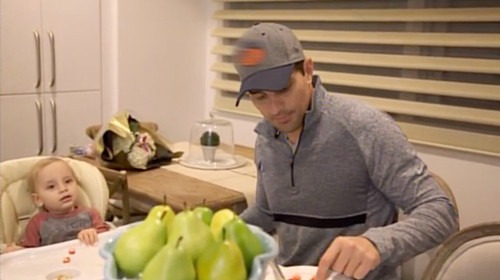 On this week's episode of Giuliana & Bill, Giuliana Rancic considers going under the knife to look younger while husband Bill Rancic heads to the Middle East! In case you missed it or you just want to relive it, we've got the best moments from the show in a full pic/gif recap!
While having dinner, Bill tells Giuliana about an opportunity he has to go to Kuwait to speak at a university and at a business luncheon for entrepreneurs. Giuliana is nervous about him traveling to the Middle East, although Bill assures her that he will be safe.
Duke listens to his parents' discussion!
Bill also promises to be back in time for Fab Fest—a breast cancer event that Giuliana will be participating in.
While getting her makeup done at work, Giuliana's makeup artist Lina notices some wrinkles on Giuliana's forehead and suggests that she visit a Botox doctor.
At first Giuliana doesn't believe Lina, but after taking a closer look, her worst fear is confirmed.
Bill gets a call from his friend who suggests that he participate in a cash mob to help small businesses. It works like this: Bill will buy a bunch of products from a store in his hometown and then donate the items to Giuliana's Fab-U-Wish Foundation. In addition, the Inuit Organization will donate an additional $5000!
Bill agrees to the idea but decides to keep it a secret and surprise Giuliana at the actual event. How sweet!
While on set, Giuliana discusses plastic surgery with her co-host Jason Kennedy. he warns her that if she starts to get work done, it's only going to turn into a continuous cycle that won't stop.
Jason does his best impression of the cat lady—a famous socialite who is addicted to plastic surgery.
Still not convinced, Giuliana decides to get a second opinion.
Before Bill leaves for Kuwait, Giuliana tells him that she's contemplating getting a facelift so that she can look younger.
Bill's response:
Back at work, Giuliana's friend Lindsay who is also the co-founder of Fab Fest calls to tell Giuliana about a wish they should grant for two women who developed breast cancer while they were pregnant and ended up becoming friends.
Touched by their story, Giuliana decides to throw them a surprise baby shower!
It's Bill's first day in Kuwait! He and his friend Ari, an entrepreneur, are given a tour of the Arab Fund building. They are blown away by the beauty and splendor of the place!
Back in LA, Giuliana stops by the dressing room of Fashion Police host Joan Rivers and her daughter Melissa Rivers to get their opinions on plastic surgery.
Joan is all for it and shares her personal motto:
Meanwhile, Bill is the guest of honor at a luncheon where he will be speaking to entrepreneurs from Kuwait.
Back in LA, Giuliana and Lina go in for a consultation with Dr. Raj Kanodia, a plastic surgeon.
Dr. Raj tells Giuliana that she is too young to get a facelift. He says that the slight drooping she is experiencing in her skin is natural due to aging but that he can improve the appearance of her skin with fillers and lasers.
He gives Giuliana a quick demonstration with the laser.
Excited by her new options, Giuliana decides to think it over before scheduling her first procedure.
Bill is on the final leg of his trip, talking to students at the American University of Kuwait.
His speech is a hit, and afterwards Bill answers questions and poses for selfies with the students.
Upon his return to LA, Giuliana tells Bill about her trip to the plastic surgeon's office and admits that she scheduled a laser treatment.
She shows Bill what she's going to look like afterwards.
Bill still doesn't think that Giuliana needs it and he points out that she's beautiful just the way she is. But does Giuliana agree?
After heading off to Chicago, Bill participates in the cash mob idea, which is being filmed for a promotional video.
The owners are shocked when Bill informs them that he wants to buy a hundred gift arrangements.
Check out the total cost of the items!
One of the store owners is moved to tears and hugs Bill, thanking him for helping their business. He's definitely changed some lives today!
It's the day of the surprise baby shower that Giuliana is throwing for the breast cancer survivors, Sarah and Adrienne!
They are surprised when they enter the room and see Giuliana standing there!
The ladies sit down for lunch with Giuliana, and they each take turns sharing their personal stories about their struggles, success and how they ultimately beat the cancer.
Giuliana makes a toast for all of the strong women at the table!
It's Fab Best and Giuliana poses for a picture with several of the other participants.
Then Bill shows up and presents his surprise to Giuliana: a hundred gift baskets as well as a check for her organization!
The day for Giuliana's laser procedure has arrived and Bill accompanies her for support.
The doctor explains the procedure and what results he hopes to achieve. Giuliana tells Bill that if he is truly against it, she'll respect his wishes and not go through with the procedure.
But Bill supports her all the way!
Giuliana gets hit with her first laser ray. It's not too painful...
After the procedure is over, Bill tells Giuliana that even though she isn't the youngest person around, she is still beautiful.
The two agree that getting older is a blessing and the opportunity to be able to lead a healthy life and live to see another birthday is truly something to be grateful for.
We think these two look pretty fabulous anyway, don't you agree?
Tune-in to an all-new episode of Giuliana & Bill next Tuesday at 8/7c on E!