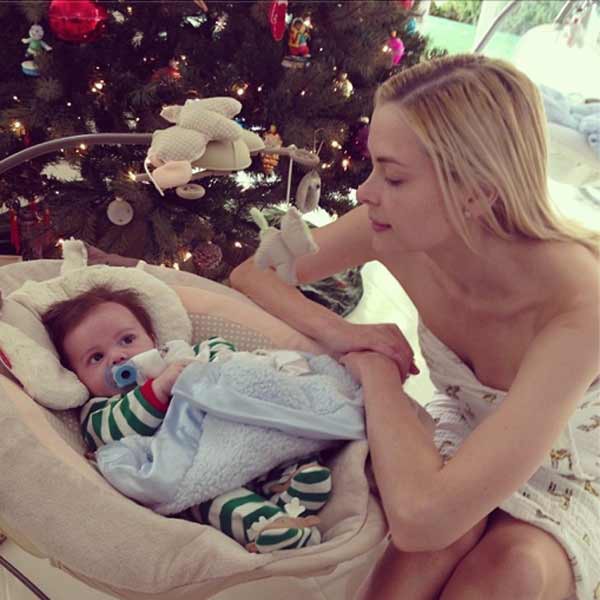 Instagram
Giving birth is an extraordinary time for any mother, but for Jaime King, her pregnancy took on an extra special meaning.
Why? Because the new mom spent four years trying to get pregnant.
"This baby was a long time in the making and I feel like the universe put a little extra magic dust in him," she tells ABC News of her son, James Knight, whom she welcomed with husband Kyle Newman in October. "He's like the happiest, most joyful, social and loving child."
"Everything takes on a new meaning," she added of the day she gave birth to her bouncing baby boy.
Understandably, King was distraught as she struggled with infertility, and when her pregnancy wish finally came true, the blond beauty was only concerned with her son's health.
"There's definitely an identity crisis you go through, but it took a long time to get pregnant," she admits. "For me, the baby was such a blessing that the most important thing for me was that I was active...I was never obsessive about dieting or exercise. I didn't care how much I gained. I just wanted to make sure he was healthy."
Considering it seemingly took King about four days to get her body back, we think she maintained a healthy balance, although it helps that she went right back to work after giving birth.
"He's been on set with me every single day, always laughing and giggling and happy," she said. "He does a really good job of sleeping through the night. He's just an awesome child...I'm always trying to set up a way he can be with me, that's why I bring him to set with me. I want him to know his mother's with him, because that's the way I was raised."
Jordan Strauss/Getty Images
Aww.
When Jamie's in need of advice she turns to her celeb BFF Jessica Alba, who is also little James' godmother and a mom to two beautiful children.
"My No. 1 is Jessica Alba, she is one of my best friends and his godmother," she said. "She's just a shining example of someone who's not just an incredible mother, balancing work and motherhood, but also what she does with her company Honest. I really feel like I'd be lost if I didn't have her in those moments to call, like simple things: 'How do I travel?'...'How do I deal with the hotel rooms?' 'How do I deal with him on set?'...'How do you breastfeed at the same time as shooting?'"
She added, "When you don't have a normal maternity leave, if I didn't have someone like Jess or January Jones, who's also a mom. Drew Barrymore, there's several new moms out there in my industry."
Fellow celebrity moms and an angel baby? Sounds like little James was worth the wait.