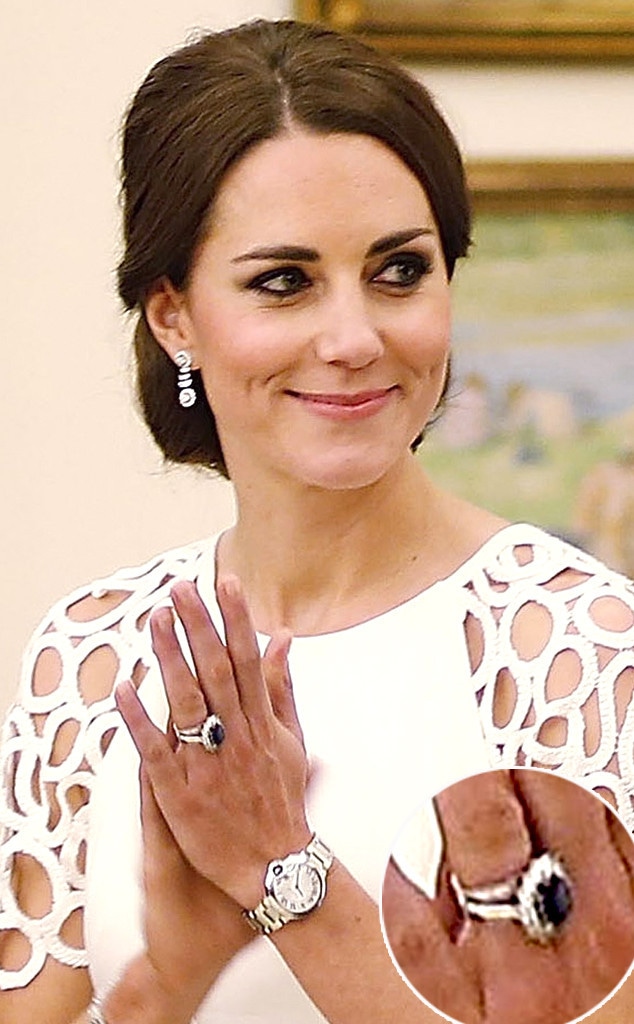 Stefan Postles/Getty Images
Like a fine wine, some engagement rings simply get better with age.
Such is the case for Kate Middleton's bling as her engagement ring from Prince William has seen a tenfold increase from what it was valued in 1981—the year it was bought by Prince Charles to give to then-fiancée Princess Diana.
Originally valued at £28,000 ($47,000), the 12-carat sapphire which is surrounded by 14 diamonds is now worth £300,000 ($500,000).
Impressive!
The inherited jewelry piece has increased in value due to its significance and is worth three times more than Queen Elizabeth II's engagement ring, which is reportedly valued at £100,000 ($168,480).
Middleton's sparkler tops the list of the world's 20 most famous engagement rings. The list was compiled by Vashi Dominguez, a jewelry expert on ITV's This Morning,
"It's Kate's quiet confidence to lead as a style icon that makes the ring so special," Dominguez said.
Coming in second place is the queen's bling, followed by Michelle Obama's ring from Barack, which is currently valued at $33,680 (a large increase from it's previous value of $12,636).
As for No. 11 on the list?
That belongs to none other than Beyoncé, whose bling from hubby Jay Z was worth nearly $4.5 million when the rapper proposed in 2007 and is now valued at over $9.7 million.
Hip-hop royalty, indeed!
Do you have a favorite celebrity sparkler? Tell us in the comments!