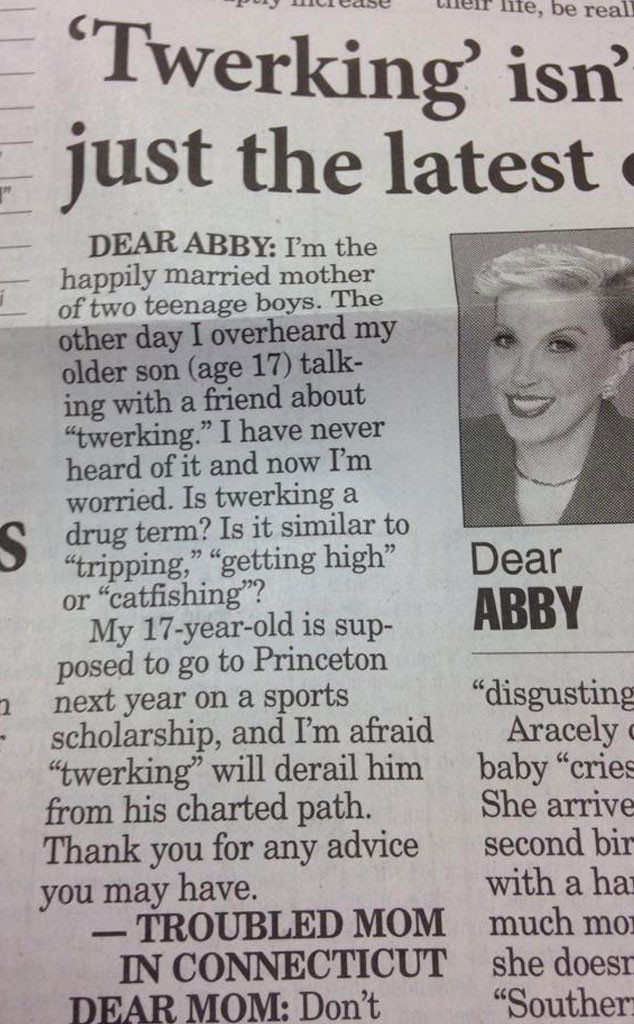 Dear Abby
The most shocking part of this story is that people still write in to advice columns.
The second most shocking part of the story is that, if you read all the way to the bottom of the "Dear Abby" column, it says, "Dear Abby is written by Abigail Van Buren, also known as Jeanne Phillips, and was founded by her mother, Pauline Phillips." WTF, so there was NEVER an Abby?
Anyway, the latest batch of Dear Abby advice included a question from a "TROUBLED MOM IN CONNECTICUT" who worries her twerking child is on drugs. The letter is so adorable in its cluelessness that it almost seems unreal:
DEAR ABBY: I'm the happily married mother of two teenage boys. The other day I overheard my older son (age 17) talking with a friend about "twerking." I have never heard of it and now I'm worried. Is twerking a drug term? Is it similar to "tripping," "getting high" or "catfishing"?
My 17-year-old is supposed to go to Princeton next year on a sports scholarship, and I'm afraid "twerking" will derail him from his charted path. Thank you for any advice you may have.