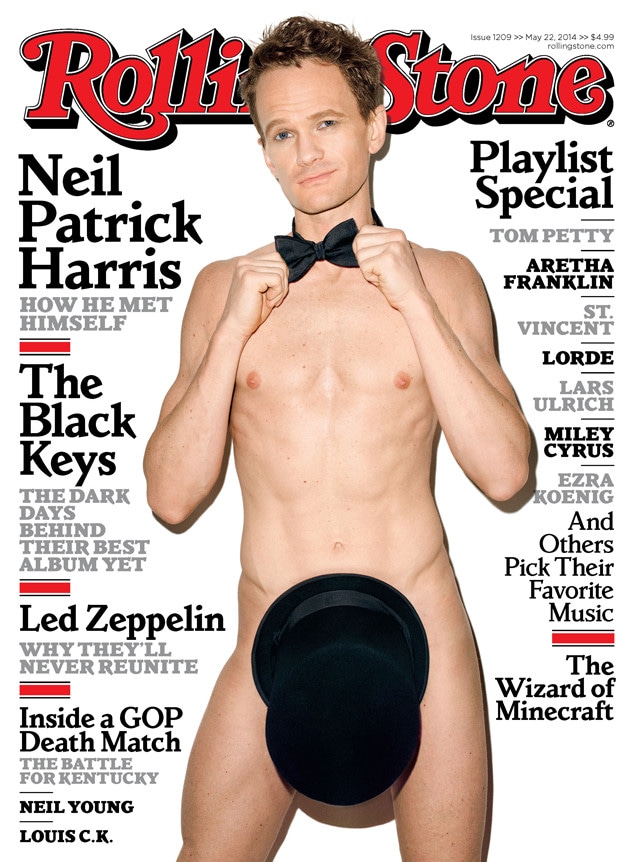 Rolling Stone
There's no suit quite like the birthday suit—and Neil Patrick Harris is working that one well on the cover of Rolling Stone!
The How I Met Your Mother alum wears nothing but a crooked bow tie and strategically placed top hat in his sexy shoot for the mag, which hits stands Friday. He also shows off the significant amount of weight he lost to play a transsexual German glam rocker in Broadway's Hedwig and the Angry Inch, something his fiancé David Burtka says "really gives him power."
It hasn't exactly been easy, though, to go from touting the bro code on CBS to a grappling with more perverse humor on the Great White Way.
"I didn't think he could pull off the femininity of [the role]," Burtka admits. "This is such a stretch for him. In his day-to-day, he's not a very feminine guy."
And Harris, 40, still does have that fan base including "so many frat guys," and he's the first to admit, "It doesn't seem right in a way. But it's very exciting at the same time."
It was actually coming out publicly in 2006, he tells Rolling Stone, that allowed Harris to play so many different types of roles. "Once all the cards were on the table, I got more opportunities than ever," he says. "Some actors don't get hired because you can't look into their soul and see what they're like, because they're kept guarded."